The real estate technology consolidation continued today, as DocuSign acquired Cartavi.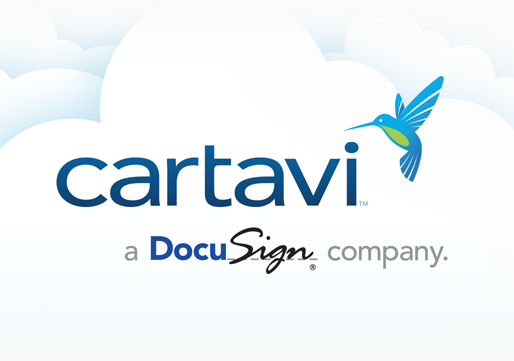 DocuSign Acquires Cartavi to Create End-to-End Digital Real Estate Transaction Collaboration

Cartavi, a DocuSign Company, and zipLogix ® To Deliver Best-in-Class Solution with Forms, Collaboration and eSignature

SAN FRANCISCO, CA; DETROIT, MI and WASHINGTON, DC – NAR MID YEAR MEETING – May 15, 2013 – DocuSign, The Global Standard for eSignature®, and the official and exclusive eSignature provider of the National Association of REALTORS®, announced it has acquired Cartavi, a leading provider of collaboration services for real estate transactions. This combination, along with a deeper integration with existing partner, zipLogix, will create a superior, 'one-stop-shop' experience for brokers, agents, buyers, and sellers, and for their REALTOR® associations and multiple listing services. The joint solution from DocuSign, Cartavi, and zipLogix will empower users, for the first time, to easily and securely manage end-to-end real estate transactions – anytime, anywhere, on any device – complete with forms, collaboration, and eSignature in one.

"Our real estate customers want a comprehensive and easy-to-use solution for managing transactions from listing to handing off the keys," said Keith Krach, chairman and CEO, DocuSign. "Combining Cartavi's technology and zipLogix's dominant forms management with DocuSign's eSignature solution advances our leadership in real estate by further streamlining transactions to make it easier, faster, and more convenient than ever to complete deals."

DocuSign's acquisition of Cartavi comes after an 18-month strategic partnership where the companies developed joint solutions to help real estate professionals accelerate speed to results, reduce costs, and delight clients. DocuSign's deeper partnership with zipLogix builds upon an existing nine-year integration where zipLogix customers have been able to DocuSign directly from zipForm. Now, customers will be able to use all three industry-leading products in combination over the web, on tablets, and mobile phones. Further integration is planned to make it even easier for all parties involved in real estate transactions to close deals faster.

"Our mission when we established Cartavi was to fundamentally improve outdated and hard-to-use real estate transaction management technology," said Glenn Shimkus, CEO and co-founder, Cartavi. "We simplified the experience by taking a cloud-based, mobile-first approach that supports the busy, on-the-go lifestyle of real estate professionals and the tremendous complexity of their transactions."

Chicago-based Cartavi has pioneered the next generation of real estate transaction management with cloud-based collaborative solutions that empower real estate agents to complete transactions entirely in the cloud. Unlike traditional transaction management platforms, Cartavi and DocuSign allow even a single agent to get started, on their own, and then easily expand usage to other agents and offices as needed.

"zipLogix, the leading provider of forms to the real estate industry, is the official and exclusive forms provider of the National Association of REALTORS® and brings an installed base of more than 600,000 real estate professionals to the relationship," said Joel Singer, president and CEO, zipLogix. "The integration of zipForm into the combined DocuSign and Cartavi solution holds great promise for our customers given the introduction of our newest platform, zipForm Plus."

DocuSign was the pioneer in cloud-based electronic signature, and is now accepted as the global standard by more than 37 million users in 188 countries. DocuSign is the official and exclusive eSignature provider to the 1 million members of the National Association of REALTORS®, and the real estate industry's most widely used eSignature solution. DocuSign's real estate customers DocuSign billions of dollars worth of transactions each month with integrations into a number of applications that enable secure, tamper-proof online transactions on the DocuSign Global Network.

DocuSign and Cartavi will continue to operate within their existing office spaces while collaborating with zipLogix on further integration of their solutions. Cartavi will officially change its name to Cartavi, A DocuSign Company. The terms of the acquisition were not disclosed.
Last week, Market Leader. This week, Cartavi. Who's next?