Tag Archives:
jeff turner
by Drew Meyers on 10:00 am February 6, 2018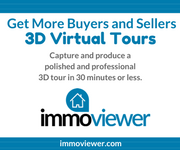 There was some big news last week from one of Geek Estate's founding members — Jeff Turner, CEO of immoviewer US. No Measuring. We Do All The Work. We've been testing floor plan creation from the 360° images in your immoviewer 3D tours for several months now and we're happy to announce their official launch. Beginning today, you can now order floor plans right from your desktop dashboard. And the only measuring you'll need to do is from the floor to the center of your camera lens. Simple. Easy. … Read More »
by Drew Meyers on 12:44 pm September 22, 2017
A big, big congrats to one of true gems of this industry — Mr Jeff Turner — for his new role as CEO of immoviewer, the 3-D virtual tour technology based in Europe. (see here for some context on why I cherish him). Given his love of photography and real estate, this is a clear match made in heaven. Press release: immoviewer Announces Appointment of New CEO Jeff Turner Named Chief Executive Officer For Immediate Release BERLIN, GERMANY – September 22, 2017 – immoviewer, the European market … Read More »
by Drew Meyers on 12:18 pm March 26, 2016
This is an old video I've watched before, but it's worth watching again. For those that understand my commitment and investment into community, it's no surprise why I love Jeff Turner so much. He gets community in a way virtually no one else does. Happy Saturday.