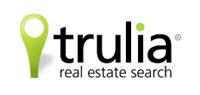 Trulia is like the 8'th grade bully that looks like a 19 year old, stocky, goatied, man-child that looks like he can pile-drive you to the leaves with his left hand, only after you stand up for yourself and fight back he promptly leaves you alone.
Trulia looks tougher than it really is.  It has a major weakness: Bad search results.  For many cities, if not all, half of the available property results it shows are already in contract — NO longer available.  Not exactly a user-friendly strategy.
But what it lacks in delivering good search results, it makes up with remarkable efficiency in:
*Close to perfect "user-friendly" layout
Site speed,
Hyper local stats with easy to read graphs,
Local forums in the format of Question and Answers,
Top notch coding and relentless search engine marketing.
*The number one benefit of having millions of users go to your site is the information you learn from user's online click habits. Trulia maximizes this information.
They are a tight ship run with millions of dollars of VC money.
But they are not invincible.  I have beaten them with a major site, and a few others like Hawaii Life have smoked them.
This is my quick take on how to beat Trulia in organic search results:
You need to have an older site.  It will be very hard to one-up them with a one year old site or less.  Consider building out your existing site or purchasing an older, already-ranking, but abandoned site in the same vertical.
Make sure your site's speed is the best it can be. Minimize loading time as much as you can.
Produce local content that's hard to replicate — community profiles and videos.
Have a solid home page layout. Something that looks professional and not too "sales-pitchy".
A local hub, with updated content from blog posts or forums will be a big boost.
Have your local number visibly posted on your home page.  Your local office address will be good thing to add too.
Organically attract  local links from your city by producing remarkable content (useful widgets, interactive local guides, top 10 lists, infographics etc.,)that they can paste on their site or notice you.
Build on a solid generic domain if you can.
Get the best, and most updated search results.
At the end of the day, I still believe that content is key.  Strive to deliver remarkable, consistent, local real estate information.  Search engines follow people.  Just know that after you produce it you would need to put as much time letting people know about it.  There is no short cut in beating a multi-million dollar site like Trulia.  But your local knowledge coupled with a great way of presenting it to people could give you an edge.
This is some of my thoughts, I'm sure I've missed some.  What has worked for you?