In our latest real estate tech entrepreneur interview, we're speaking with the co-founder and CEO from VHT Studios, Brian Bulduf.
Without further ado…
What do you do?
VHT Studios is the nation's largest real estate photography and visual marketing company. I am the CEO and Co-Founder of VHT Studios and we launched the company in 1998. VHT Studios has become the nation's premier full-service real estate photography, visual marketing services and image management company. We have served more than 200,000 real estate professionals in all major markets.
What problem does your product/service solve?
We provide stunning professional real estate photography that has proven to sell homes 32% faster than other listings. VHT Studios provides aerial drone images and video for properties in distinct locations, so buyers see not just a home, but a lifestyle.
We also offer a suite of virtual staging tools that help real estate professionals market a listing that is vacant or has dated or unattractive furnishings and décor. We provide interactive floor plans to help buyers envision movement and flow through a home.
Studio services and image management are also a big part of our business. We have a full team of image specialists that enhance and edit photographs and video, and apply our new virtual staging suite. Brokerages love working with us because we integrate into their own technology and upload our content into their back-end systems. Real estate professionals can seamlessly use VHT Studios photographs and visual marketing in all of their brand materials and web and social properties.
What are you most excited about right now?
I'm excited how listing a home with professional real estate photographer is now the norm. For the past five years we've been working to convince the industry that DIY photography not only takes up valuable time but more importantly, it sacrifices quality, especially since buyers have become accustomed to seeing stunning photography on Houzz, Pinterest and so many cable network shows.
I'm also excited about by the response from agents who have embraced our new virtual staging tools. For years, they've been telling me, "I love what you did for that gorgeous estate, but can you help me with this vacant listing." Or "What can you do about the paisley living room wallpaper in this house that's been sitting on the market?"
Before:
After:
Virtual staging is our most popular offering since we rolled it out late last year. We've got a complete suite of tools – Virtual Paint, Virtual Redecorate, Virtual Declutter and Virtual Staging. It's really caught on as a marketing tool that helps buyers envision what a listing could be. Plus it spares the seller the expense and inconvenience of repainting, remodeling or hiring a traditional stager to give a listing a facelift.
What's next for you?
There are many growth opportunities for VHT Studios. It's hard to believe, but the majority of real estate professionals DON'T use professional photography. As younger people enter the profession, they see professional photography as a given, so that is changing.
There's great growth potential for drone photography and video. Any home that is in a unique locale will benefit from drones, whether it's a beachfront estate, a golf course home, or a bungalow just steps away from a quaint shopping district, bike trail or a nature preserve.
We see big opportunity for companies and individual owners of vacation rental properties. We have some agreements already to provide professional photography and video. I'm continually amazed by the number of owners using poor quality photographs to market their vacation rentals. Owners of vacation homes should take the same care and use the same tools for vacation homes that they do to market their primary residences.
We also see growth in other industries such as destinations, event, and tourism companies. Hotels, spas, restaurants, offices, resorts, golf courses, country clubs, senior living facilities, – any property that can be leased, rented or sold will benefit from our visual marketing services.
What's a cause you're passionate about and why?
I have always loved music – I worked five years at a record store and have played in a rock band for the past 30 years, performing around the Chicago metro area. Being a musician AND working with the nation's top real estate photographers gives me a deeper appreciation of intellectual property rights.
Anyone who creates original content must step up and educate their respective industries about usage rights to that content in the age of the Internet and social media. I want to help spread awareness – by working with others in our industry – to prompt a public and industry discussion about intellectual property laws, the rights of professional photographers and how licensed photographs, video and other assets should be protected in the digital age.
With respect to the charities that VHT Studios supports, they are all revolve around homes (no surprise there):
Thanks to Brian for sharing his story. If you'd like to connect, find him on LinkedIn here.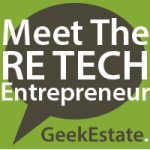 We're constantly looking for great real estate tech entrepreneurs to feature. If that's you, please read this post — then drop me a line (drew @ geekestatelabs dot com).
Posted in