In our latest real estate tech entrepreneur interview, we're speaking with the founder of UK based residential real estate agent emoov, Russell Quirk. I had the chance to meet him in NYC while attending the mipim summit, and was very impressed with his read on the global real estate landscape.
Without further ado…
What do you do?
We are a UK based residential real estate agent. With a difference in that we are tech enabled and we have a different approach to how fees should be charged and how the customer is treated.
What problem does your product/service solve?
UK real estate is a broken industry. Poor service, high fees that are not transparent and an analogue, inaccessible ethos that is the antithesis of the way that the modern 'eConsumer' operates now.
Our solution to high, commission based fees is to charge every homeseller the same fixed fee regardless of sale price. Because the work involved is the same, regardless of that sale price.
Our proprietary platform technology allows 24/7 access for sellers to change price, add images, edit descriptions, see stats and to set up viewing/showing appointments and related feedback. However, our ethos is a blend of great tech and great people. They are complementary and work together in a unique UX experience to provide the ultimate selling experience. Tech does not replace people in this business (not yet anyways). It simply empowers and enhances.
UK real estate agents treat their customers with a disregard, in the main. They are often unreliable, non-transparent and work in their own self interest. Our way id that of great businesses like Zappos, Amazon and John Lewis. EVERY decision is made through the customer lens and that's why we are rated the NUMBER ONE estate agency nationally in our sector every year since 2015 (AllAgents.co.uk). It's a true differentiator and is defensible versus some of our competitors where the wheels are wobbling on CX.
What are you most excited about right now?
Expansion, and machine learning.
We intend to double in size in 2018 and to double again in 2019 and ultimately our vision is to capture 10% of the UK estate agency market (100,000+ listings per annum).
On machine learning, my co-founder and CTO Ivan Ramirez and I are locked in to establishing the world's first AI powered real estate solution. More detail on that when we can.
What's next for you?
We need to consider our next play where investment is concerned. We've raised a total of $20m now and will be looking for c$30m next year as part of our scale up now that we have built the foundations of senior team (CEO, COO, CMO, CTO, CFO in place); technology platform and customer service provability.
We might also be tempted to look a little more at international markets because, frankly, the US in particular are a way behind us and RIPE for disruption.
What's a cause you're passionate about and why?
I just slept rough as part of 'CEO Sleepout' here in London and raised nearly $4000 for three homeless charities. There's an irony to an estate agency CEO raising awareness of the homeless however awareness and solutions need to be found for the plight of those that sleep on the streets night after night and often face mental health issues.
We also partner with Hope for Children. An amazing charity that supports kids in need of help and resource across the world.
I'm an unpaid Governor at my daughters' school, a charity run place of learning that is ranked one of the best prep schools in England.
Thanks to Russell for sharing his story. If you'd like to connect, find him on LinkedIn here.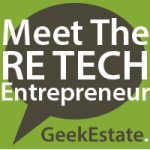 We're constantly looking for great real estate tech entrepreneurs to feature. If that's you, please read this post — then drop me a line (drew @ geekestatelabs dot com).
Posted in