In our latest real estate tech entrepreneur interview, we're speaking with Yifan Zhang, the co-founder and CEO of Loftium. I met her at the Future of Home Buying panel during Seattle Startup Week event last week. Loftium is a company I'm following closely, given their focus on providing down payment assistance in an innovative way (see my Kiva for real estate idea & thoughts on Point) as well as the fact they require customers to host on AirBnB (see Horizon as it related to AirBnB hosts).
Without further ado…
What do you do?
Loftium gives you a down payment if you Airbnb an extra bedroom for 12-36 months after home purchase.
What problem does your product/service solve?
The down payment is the number one barrier to home ownership, especially in expensive cities today. Loftium aims to solve the down payment problem using the income-generating potential of the home you're buying (aka your spare bedrooms) rather than adding more debt.
What are you most excited about right now?
The excitement we're seeing from Loftium homebuyers, and being able to help them become homeowners in the city – not being forced out to the suburbs. We also believe that cities are better when there's more economic diversity, and the easiest way to stay in the city is if you can afford to own your home.
What's next for you?
Opening up from Seattle to the Greater Seattle Region and then other cities.
What's a cause you're passionate about and why?
I'm also a supporter of entrepreneurs and startup CEO's that don't fit the traditional mold in Seattle – whether they're female, minority, young, first-timers, etc. My door is always open to founders who want to build world-changing companies and need help with their pitch deck, fundraising story, marketing, or strategy.
Thanks to Yifan for sharing her story. If you'd like to connect, find her on LinkedIn here.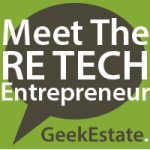 We're constantly looking for great real estate tech entrepreneurs to feature. If that's you, please read this post — then drop me a line (drew @ geekestatelabs dot com).
Posted in