In our latest Meet the Real Estate Tech Entrepreneur interview, we're speaking with Brad Jefferson of Animoto.
Here's a bit more about him…
1) What do you do?
I'm the CEO and co-founder of Animoto and work hard to make it easy for people to create and share extraordinary videos of their life or for their business.
2) Why do you do what you do?
I've always been touched by the power of video as an incredibly emotive artform.  As the screens of our phones, tablets, computers, and TVs increasingly surround us, I want to make sure the quality of video that's on those screens is beautiful, whether it's an Animoto video from a family trip played for the 100th time or the first viewing of an Animoto home listing video that makes you dream of raising your family there.
3) What are you most excited about right now?
We launched in 2007 as a consumer website because the need we most intimately understood was how we and our families would use Animoto to create, share and relive special memories and occasions.  But today we get just as many 'thank you' notes from businesses and the people behind them as we do from people who use Animoto exclusively for personal use.  As a small business, I'm excited about our opportunity to serve other small businesses and the people behind them – and hope to receive lots more thank you letters.
4) What's next for you?
The two industries we're focused on right now are real estate and professional photography, and while we have tens of thousands of happy customers across those industries, we're working hard to make our customers even happier.
5) What's a cause you're passionate about and why?
Band of Parents is funding new therapies for neuroblastoma, a rare and deadly cancer that took the life of a young boy named Eli from Iowa who used to visit our NYC office while receiving treatments at the local Ronald McDonald house.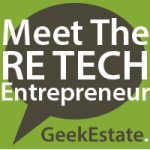 Thanks to Brad for sharing his motivations and current projects. If you're interested in connecting with Brad further, you can find him on LinkedIn.
We're constantly looking for great real estate tech entrepreneurs to feature. If that's you, please read this post — then drop me a line (drew @ geekestatelabs dot com).
Posted in