This week, we interviewed Dan Simpkins from Dwellwell Analytics.
Let's get to it!
Who are you and what do you do?
My name is Dan Simpkins. I'm a technologist who holds more than 20 U.S. patents, and I'm a serial entrepreneur with more than two decades of startup success. Today, I'm the CEO and Co-Founder of Dwellwell Analytics, Inc., which has developed property technology ("proptech") that transforms residential maintenance from reactive to proactive, using data and analytics.
Previously, I founded Hillcrest Labs, now a division of CEVA (NASDAQ: CEVA), which introduced the first SmartTV operating system to the market and developed the first motion-controller for television. I also founded SALIX Technologies, a telecom company that was acquired by Tellabs (NASDAQ: TLAB) for $300 million.
What problem does your product/service solve?
Dwellwell is a first-of-its-kind proptech/smart home product. As the first "check engine light" for the home, it provides a comprehensive approach to home system monitoring. Most of today's smart home technology is siloed, showing only basic data about one system in the home, like a smart thermostat. Conversely, Dwellwell is an all-in-one solution that monitors and displays the status and health of every major system, including HVAC, plumbing, and electrical, and even monitors environmental concerns like mold and carbon monoxide (CO) levels.
Dwellwell is specifically built for owner-operators of large residential property portfolios, like apartment buildings (i.e., MDUs/multi-dwelling units) and single-family rental (SFR) communities. The remote monitoring capability — a la a "virtual super" — is especially applicable to these audiences.
Owner-operators of large residential real estate portfolios typically don't have the resources or expertise to integrate multiple siloed products. In addition, our customers have a great need to understand the status and health of their numerous properties in one user interface. Repair and labor costs continue to rise, yet you can't scrimp on maintenance – it is vital to protect and maintain the assets (i.e., the residential properties) to ensure steady revenue and occupancy.
In addition, this product identifies and alerts the user to maintenance concerns while they are still relatively minor (like a plumbing leak). As such, these can be addressed early so they do not escalate into larger, expensive, more complicated problems.
We expect our customers to see savings of at least 25% in their maintenance costs, due to their new ability to triage maintenance, optimize operational processes, and address repairs early.
 What are you most excited about right now?
Our two recent product deployments, one in an apartment building and one in an SFR community.  Both pilot customers are actively using the product, assessing and providing feedback to us so we can refine it to better meet customer needs. They are already seeing data that is helping them move their maintenance process from reactive to proactive. Their results prove our case that it's vital for residential property portfolio owner-operators to be able to identify and address smaller issues proactively (i.e., without waiting until someone reports a problem), which serves to create and maintain satisfied residents.
 What's next for you?
Continuing to develop additional features for Dwellwell, signing-on additional MDU and SFR pilot customers, and securing Series A funding.  We're also actively seeking to hire additional talent, from engineers to physicists to salespeople.
 What's a cause you're passionate about and why? 
I have long been passionate about education and I work with several educational institutions on innovative progra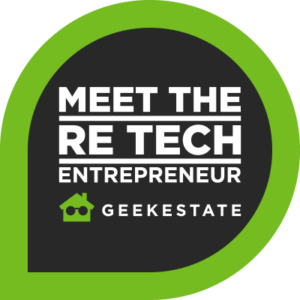 ms to make education both more accessible and more valuable for today's students.
Recently, for example, I endowed an innovative program at Cornell University to enable students and alumni to work together in the classroom. The goal is to give students more of the professional skills that are required to succeed post-graduation.
Thanks to Dan for sharing his story. If you'd like to connect, find him on LinkedIn here.
We're constantly looking for great real estate tech entrepreneurs to feature. If that's you, please read this post — then drop us a line (community @ geekestate dot com).
Posted in