In our latest real estate tech entrepreneur interview, we're speaking with Christopher Burnley from Corefact Corporation.
Who are you, and what do you do?
I am Christopher Burnley CEO of Corefact Corporation. My background is in software engineering. I find passion in building teams and products to empower real estate agents in their business. While TV shows agents driving around in a Mercedes Benz, in the real world agents have a difficult job that add enormous value to their communities. My job is to find ways to make their jobs and lives easier so they have more time to spend with their loved ones.
What problem does your product/service solve?
Corefact provides marketing products and services for real estate agents that list properties. These products include lead generation marketing to get new listings and products to market active listings include print, direct mail and digital marketing products.
What are you most excited about right now?
I am both excited and scared about machine learning. Machine learning (AI) can be a powerful tool to make business and life efficient, but there are also a number of side-effects that are/will disrupt society as we know it. Progress is certain, but it is our job to shepherd the technology into an ethical and sustainable future.
What's next for you?
My goal over the next five years is to continue to grow Corefact. The keys to success will be to continue to build a solid team that can solve the challenges of the future. We will continue to grow our product portfolio including products in adjacent spaces. We will continue to explore deeply our customer needs and challenges and build new solutions to meet those challenges.
What's a cause you're passionate about and why?
I am passionate about youth soccer and volunteer as a referee for AYSO. The game instills teamwork and leadership to the children who participate. It also keeps them very active and in good health. The organization is entirely volunteer so it is important that parents get involved and participate. My kids haven't played soccer in a few years, but I continue to volunteer each year.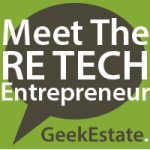 Thanks to Christopher for sharing his story. If you'd like to connect, find him on LinkedIn here.
We're constantly looking for great real estate tech entrepreneurs to feature. If that's you, please read this post — then drop me a line (drew @ geekestatelabs dot com).
Posted in