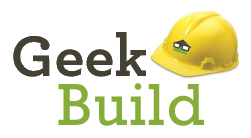 Geek Build 2012 began over one year ago as an attempt to build a real estate website from scratch using input from the GeekEstate community and industry experts. We had excellent momentum and participation in the beginning, and then, as happens to many a project, things became complicated. (See this post to catch up on where we left off).
Problems with the project primarily came down to two areas:
Lack of participation: The first setback came soon after actual development began when several participants decided to take their websites in different directions. We then asked for, and added to the project, three new participants. Of these three, one became unresponsive and one decided to go in a different direction. That left only Sam DeBord and myself.
Developer issues: What began initially as a two-week development schedule became five-months of never ending change requests. I spent countless hours sending probably over 500 rounds of communications with the developer, trying to fix problems and get the theme dialed in. There were times when I asked as many as ten times to get a particular problem solved, and there are still a couple of minor issues I never could get fixed. The process was frustrating to the extreme.
Where did that leave us? The test/development site is live at TheClearwaterBeachLife, and the search is set to dump into my primary website for testing purposes. In addition, Sam DeBord set up a test site himself at BellevueHomes.com, and also helped a great deal with the theme documentation.
The good news is that we ended up with a very flexible child theme for the Genesis Framework. All rows in the theme between the search box at the top and the footer are optional, and you can turn them on and off in the theme's control panel. You can also choose whether or not to display the optional rows when the home page is loaded, or to give the user an option to display them with a prompt such as "See more from our website."
The not so good news is that in the current condition the theme is quite technical to set up and work with, though we do have installation documentation. We also never got to the point of actually integrating the theme with Real Geeks IDX, as was the original plan.
Where to from here? If anyone is interested in the theme we can certainly discuss it.