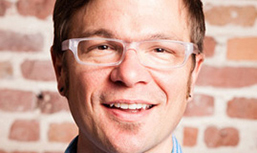 In our first "Meet the Real Estate Tech Entrepreneur" interview, we're talking to Gino Zahnd the co-founder of Cozy.co; a service that just launched making collecting rent online quicker, safer, and easier than it ever has been. Given that I worked in the real estate industry for over 6 years prior to embarking on my Oh Hey World journey, I still keep in touch with many friends and remain plugged into the tech scene, and am always interested in talking to smart entrepreneurs in any vertical – hence the reason Gino and I met at Cozy's SF office (they also have a Portland office) two weeks ago. I came away from that meeting extremely impressed with Gino, the Cozy product, and their strategy tackling a major pain point for landlords that hasn't really been addressed with great technology.
Without further adieu…
1) What do you do?
I'm the CEO and co-founder of Cozy. (cozy.co)
2) Why do you do what you do?
We're building Cozy because the rental process is a generally miserable experience from the very first interaction. It's one of the oldest systems in human civilization, and it has never been designed.
3) What are you most excited about right now?
Our launch today! (more)
4) What's next for you?
To get the word out about Cozy, and continue being 110% focused on making the best products in the world for our customers. We'll be rolling out new mobile tools and drastically expanding the core product offering.
5) What's a cause you're passionate about and why?
Vanderkitten Women's Race Team is the group I have the most respect for outside of work. They're the longest running women's professional cycling team in history, and they work tirelessly to promote equality in an environment that is dominated by inequality. The software industry could learn a lot by paying attention to how Vanderkitten gets things done.
Thanks to Gino for sharing his motivations and current projects. If you're keen to connect with Gino further, you can find him on Twitter @Gino.
We'll be featuring other real estate tech entrepreneurs in the coming weeks. If you are an entrepreneur in the real estate vertical, and want to be profiled, please sign up for an OHW account and add "real estate tech entrepreneurs" as an interest on your profile — then shoot me an email (drew at ohheyworld).