I was just editing my About.me bio randomly, and one thing mentioned there is the Carnival of Real Estate (I left it in).
The following images may bring flashbacks to some of you…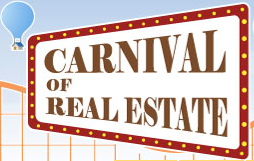 and
and
Originally launched summer of 2006 (see here by the one and only DavidG), it had a good run highlighting the best of the RE.net weekly for several years. Over time, the RE.net blogging community migrated to Twitter, I believe the site got hacked horribly a few years ago, and the rest is history. That said, I'm kinda sad the Carnival of RE doesn't exist anymore. Does anyone have any strategies to find the best of the best in terms of articles written in the real estate industry these days?