Tag Archives:
buyfolio
by Drew Meyers on 1:28 pm May 4, 2017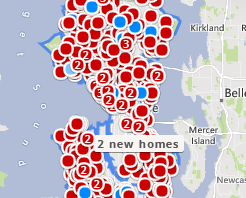 I wrote an article recently about helping buyers find the perfect home more efficiently. Though I still don't think finding "the absolute perfect home" is something buyers are clamoring for in an online search experience, I do believe there to be immense value in helping buyers discover the properties relevant to them (without wading through crap that's not). There's a few approaches to narrowing a search: Standard filters — almost every real estate search website has basic search parameters such as price, beds, baths, square footage, … Read More »
by Drew Meyers on 7:03 pm November 17, 2014
I was bullish on AgentFolio in 2013. See this article for details. It was announced AgentFolio (formerly Buyfolio) is to be discontinued (via GeekWire). Was I wrong in my bullishness? Maybe, but I still think less is more when it comes to search — and buyfolio was onto something potentially big. I'm wondering if the product is truly being shuttered, or if components of it will resurface down the line as part of Zillow's core search functionality? I suppose only time will tell. Anyone else have any thoughts … Read More »
by Drew Meyers on 8:23 am November 1, 2012
My former employer, Zillow, just picked up Buyfolio in an acquisition. Congrats to both teams! I have to imagine real estate technology vendors are scrambling like mad to attract clients and gain traction in the hopes of being the next company to be acquired by either Zillow, Trulia, or Realtor.com. Who's next in line?