In our latest real estate tech entrepreneur interview, we're speaking with the founder and CEO of Upad, James Davis. I had the chance to meet James in New York a couple weeks ago while attending the mipim summit.
Without further ado…
What do you do?
I run Upad, the UK's largest online letting agent and winner of Best Online Agent 2017. We provide landlords with the same services as a high-street agent but use technology to offer a quicker, more efficient solution at a fraction of the cost. We're essentially part of the new trend of PropTech – offering technology based solutions so landlords can find tenants in the digital age. We still focus on that service element, it's really important to me because I don't think lettings can be a complete e-commerce platform- you need that human interaction and it's why we have ARLA qualified advisors for landlords to speak to.
What problem does your product/service solve?
Landlords are being hammered by rafts of legislation and more recently, and perhaps with the biggest impact, the reduction of mortgage interest relief- which will make huge dents in landlord's profits. We offer landlords a cost-effective solution but still give them support and opportunities to build their knowledge with articles, guides and webinars. Landlords need an easy-to- use service to take the hassle out of letting- it's our main focus when developing our services.
What are you most excited about right now?
I'm most excited about some big projects we're about to launch at Upad. Through our research we know that landlords want to learn more and make sure they're compliant in their course of business. Most notably, tax and legal advice are the main areas landlords want and need help with – we're going to address that with tech solutions and ongoing support.
What's next for you?
I think we're going to see an even bigger shift towards PropTech in the next few years. 92% of tenants search online for their next property and this is going to drive Upad forward as we offer more solutions to landlords to manage their buy-to- let businesses. We're also looking to expand even further; with services, advice and a bigger team to reach out to UK landlords.
What's a cause you're passionate about and why?
I recently went through a tribunal case contesting an educational healthcare plan for my youngest daughter, who has down syndrome. The help we received from experts in the field and SEN charities, plus the information available with the Down Syndrome Association, was invaluable. We did have to do a lot of fact-finding and research ourselves, but we had the outcome we wanted in the end.
Thanks to James for sharing his story. If you'd like to connect, find him on LinkedIn here.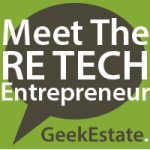 We're constantly looking for great real estate tech entrepreneurs to feature. If that's you, please read this post — then drop me a line (drew @ geekestatelabs dot com).
Posted in