In our latest real estate tech entrepreneur interview, we're speaking with Joe Edgar, the co-founder of TenantCloud.
Without further ado…
What do you do?
TenantCloud is a free solution for everyday landlord to make more money from their rental investment.
What problem does your product/service solve?
With free tools for finding tenants, collecting rent and managing day-to- day tasks TenantCloud makes being a landlord easier. No more agonizing stress around tax time. No more lying on your Schedule-E to make it look as close to last year as possible. TenantCloud provides automatic accounting tools, so that drawer full of receipts can be a thing of the past and landlords can see just how well their rental is doing.
Now on April 15 th landlords can access easy to print reports that are already completed, because you used TenantCloud which kept track of all rent coming in and expenses going out. Accounting that is intuitive, automatic and cloud based for easy access.
What are you most excited about right now?
The Boston Federal Reserve estimated that 82% of rent in this country is paid with check, cashier's check or cash. That is a staggering amount of money that can easily be done online. We will soon see most of that move its way onto applications like TenantCloud for easy accounting and payments.
What's next for you?
At TenantCloud we is constantly developing new products and now that we have released our partnerships with Assurant for renters insurance, HomeAdvisor for finding local service professionals, TaskEasy for lawn service, RentPrep for background checks, Legal Nature for rental agreements, 123Movers for moving services, Dwolla, Paypal, Stripe and more, we are soon to release our next partnership.
We are excited for the next solution which is rental property refinancing and listings, so landlords can buy, sell and even refinance their rental property right inside of TenantCloud. Imagine one click to get refinanced, sign your loan docs and you're done.
TenantCloud rental accounting makes refinancing or listing your property easy, because it is already all in one place. Imagine everything you need to apply for a loan submitted to our new refinancing partners, so landlords can easily sort through various interest rates and other terms to find the best for them. Documents can be signed right inside their TenantCloud app and payments can even be paid right inside their TenanatCloud account.
What's a cause you're passionate about and why?
I grew up in a poor home to parents of 13 children. They did a lot to try and make some extra money including buying homes and fixing them up to sell. Unfortunately, they weren't accountants and didn't keep track of much of the expenses as they worked on the homes. The IRS saw the sale of the home as one big capital gain, so my parents not only didn't make much on fixing up the houses, but they were stuck with a $170,000 tax bill that they spent years paying off.
Therefore TenantCloud is free and helps real estate investors manage their accounting, so others don't get hit from the same tragic misfortune.
Thanks to Joe for sharing his story. If you'd like to connect, find him on LinkedIn here.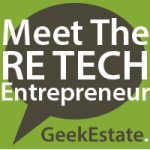 We're constantly looking for great real estate tech entrepreneurs to feature. If that's you, please read this post — then drop me a line (drew @ geekestatelabs dot com).
Posted in