Great agents have deep, deep local expertise — and an incentive to share it.
Hence why I've long thought there is a play to be made around showcasing local experts.
Zillow Advice and Trulia Voices and Localism (check this press release from 2008) used to be the rage when it came to comment marketing with local advice.
I don't hear much about local advice comment marketing much anymore, though I'm sure there are some people who still have success leaving local advice breadcrumbs across the internet (see my prior thoughts here and here).
Where do you share your local advice?
On your own blog? StreetAdvisor? Zillow? ActiveRain? Trover (see here)? Trulia? Yelp? Foursquare? Other?
There's a new, un-expected entrant into the local advice category.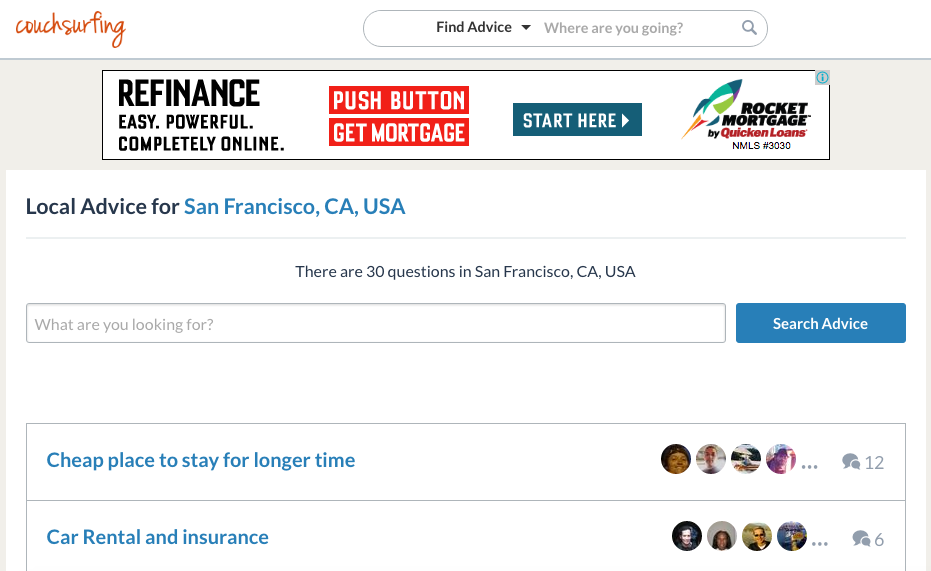 via https://www.couchsurfing.com/nearby/advice?utf8=%E2%9C%93&search_type=advice&search_query=San+Francisco%2C+CA%2C+USA&country=&latitude=37.7749295&longitude=-122.4194155&region=&button=
I follow Couchsurfing's product updates fairly closely given I'm working on another hospitality exchange platform, Horizon — we view it as complimentary rather than competitive to Couchsurfing. They now have a local advice section from their search, which is a location based question and answer offering. Granted, a lot of their community is not necessarily looking to buy or sell, but you never know who they will speak to during their visits to cities across the country that are.
Are you leaving local advice breadcrumbs? If not, why?
Disclosure: I consult for StreetAdvisor. A StreetAdvisor white label (learn more here) could be deployed in days, with near zero development time, and little cost, for those who don't wish to build their own entire location based Q&A / reviews platform.