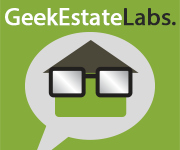 I've never really run Geek Estate as a business, and never had any legal entity behind it. That changed a few months ago when I finally setup Geek Estate Labs LLC for my consulting work & to handle sponsors (contact Mike if you're interested).
Some of you may have seen the new tab for Geek Estate Labs.
What do we do?
From our about page:
We're interested in building amazing products, and helping great companies succeed. Our specialty are technology businesses spanning real estate, travel, and community. We want to work with people solving hard problems. If you've cloning an existing product or business and doing it slightly cheaper and better — good luck, but please move along. Building a category king? We want to talk to you.

What Can We Help With?

Product management & development
Product validation & design
Design – semi-static design mock-ups, interaction and animation Design
Connections to trusted web and mobile developers
Strategic marketing and business development strategy
Currently working on 360modern & Horizon.
If you feel we can help, drop a line to drew at geekestatelabs dot com.