In our latest real estate tech entrepreneur interview, we're speaking with David Zirnhelt, the founder of Snap Up Real Estate.
Without further ado…
What do you do?
Personally, I'm the founder and full-time business manager of Snap Up Real Estate.  We're a small team right now, so I do everything from finding and removing spam to designing business systems and testing website updates.
As a business, the purpose of Snap Up Real Estate is to help Canadians find the information they need when researching their next move and connecting them with the real estate agents and mortgage brokers they need to help them along the way.  Why we do it might be what matters most though.  We believe businesses are not only meant to make money, we believe they should make the world a better place.  In fact, sustainable business practices should be more important than growth and maximizing profit.  Snap Up Real Estate pledges 50% of profit to worthy causes like Kiva, to make sure we're giving back as much as we take.  Hopefully one day, that will be the standard for all businesses.
What problem does your product/service solve?
In Canada, there are no uniform sources of real estate information. We're working on organizing the necessary information and making it easily accessible. One example is the challenge of hiring a great real estate agent. If you've ever done this, you know how frustrating it can be to try and determine who will represent you best and who to avoid. With the reviews posted on www.Rate-My-Agent.com, we can help people find the top rated agents and the ones to avoid. We incorporate the reviews and data from Rate-My-Agent.com when we help clients find the best agent for them.
What are you most excited about right now?
I'm excited by the positive feedback we get daily from clients and agents who appreciate the help we offer. It feels great to know you're helping people and they're excited to work with you. That encourages us to keep building so we can help more people and give back more.
What's next for you?
I'm dedicated to this. I could be doing it until I die. As long as we're helping people and making the world a better place, that's what I want to be doing.
How did you discover Kiva, and why do you love what they do?
It's been so long ago, I don't remember how I discovered Kiva. I had read Mohammad Yunus' Banker to the Poor and micro-lending really resonated with me. When I first saw Kiva, I bought a friend a gift card so she could start lending. She loved it. I've been lending on Kiva for years and at my previous business, we created a program. Every week, we named a Weekly Warrior. Of course they would be recognized throughout the company, but they'd also get a $50 gift card to Kiva to feel good about helping an entrepreneur out. The beauty of it, is that $50 gets lent over and over, helping more and more people with the same $50. I love how sustainable Kiva is with how the same money keeps working and how people can help themselves and grow their confidence, instead of taking a handout.
What's your prediction for the future of socially responsible agents/brokers?
I predict that socially responsible agents and brokers will rise to the top. Those that setup programs that they support consistently year after year send a message to the public. It says, "I'm not just here for the money. I care about my community and I take action. I walk the walk." People will gravitate towards them because those values are what people are looking for in an agent they can trust.
Thanks to David for sharing his story. If you'd like to connect, find him on LinkedIn here.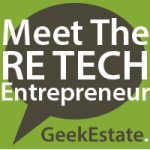 We're constantly looking for great real estate tech entrepreneurs to feature. If that's you, please read this post — then drop me a line (drew @ geekestatelabs dot com).
Posted in