In our latest real estate tech entrepreneur interview, we're speaking with Aleksandr Lanin, founder of Hasten.
Without further ado…
What do you do?
Hasten is a leading virtual staging company in NYC and I am the CEO of Hasten.
Our team of highly qualified professionals has built trust and credibility with more than 1,000 real estate agents and photographers since 2014, by contributing to realization of over 3,000 units only in NYC.
Hasten virtual staging solutions are always super realistic due to high quality standards, which have always been our priority.
What problem does your product/service solve?
According to research of National Association of Realtors, 77% of buyers are for the staging, which positively influences on their first impression, and helps them to understand versatile potential of the property beforehand.
Virtual staging, likewise, is much easier to organize, 10 times cheaper and faster, does not require any furniture rental or hiring an individual designer. In Hasten we provide sophisticated interior design that appeals to buyers, excites their desire. Creating each of our pictures, we challenge boring, blank, and low-key interiors in every aspect.
Our professional team also offer 3D visualization service, which makes it possible to depict the future property realistically having only floor plan and general measurements in presence. We also provide floor plan redraw service, collaborate with best photographers in NYC, and offer super package that includes 5 photos, 3 virtually staged images, and a floor plan at an attractive price.
Real estate professionals love working with us because we do not stop until we make it perfect. We constantly improve our working processes, evolve, and search for new ideas to implement.
What are you most excited about right now?
We are excited to contribute to the development of 3D visualization in real estate and architecture, to expand the horizons of a new vision of style. We are also thrilled to cooperate with leading NYC companies – their trust means a lot for us.
What's next for you?
We will continue doing our best to help real estate agencies increase their property sales, and working hard on infrastructure and marketing improvement in sphere of real estate. We also plan to apply artificial intelligence in our working processes to make our system trouble-free, rapid and convenient for clients.
What's a cause you're passionate about and why?
I believe in innovations and want to leave bad service, poor quality photos, and unrealistic images far behind. Right now, I am working on a new platform for realtors and buyers with numerous search filters, built-in options of virtual staging and 3D rendering etc. I'm convinced that user experience is of crucial importance, and having high quality listings and some artificial intelligence applied can make it great.
Thanks to Aleksandr for sharing his story. If you'd like to connect, find him on LinkedIn here.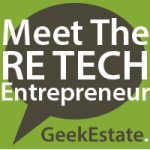 We're constantly looking for great real estate tech entrepreneurs to feature. If that's you, please read this post — then drop me a line (drew @ geekestatelabs dot com).
Posted in