In our latest real estate tech entrepreneur interview, we're speaking with Jed Carlson, the CEO of Adwerx.
Without further ado…
What do you do?
I'm the CEO of Adwerx. We make it brilliantly simple for small businesses like real estate agents and brokers to do highly sophisticated digital advertising that promotes themselves and their listings in a local market. Over 60,000 real estate agents, brokers, loan officers, and insurance professionals across the United States, Canada, Australia, and the UK use Adwerx to accomplish their advertising goals.
What problem does your product/service solve?
The vast majority of small businesses want to be doing local advertising on the internet. But most find it too intimidating or daunting. Should I do Facebook or Google? What about Instagram? Should I do cost-per-click, cost-per-impression, or cost-per-action? What should the ad say? Who should I target? How do I do that? What is retargeting? I hear that's important to be doing.
Adwerx solves the problem by listening carefully to the goals of the small businesses, and then "baking" those goals directly into how the product works. For example, our real estate products are designed to target local home buyers and sellers on Facebook, the web, and mobile devices. Our system creates an advertisement automatically for the real estate agent based on data that we likely already have about them. The only decision the agent needs to make is which zip codes they want to target or which listing they want to promote. It takes about 4 clicks to complete the process. In less than 5 minutes the agent has gone from zero to extremely sophisticated advertising at a fraction of the cost in time and money that it would take to become an expert at the craft. That's what it's all about for us. We want to get agents back to doing what they do best – working with clients to fulfill their hopes and dreams – not learning how to "optimize" digital advertising campaigns across multiple ad platforms and networks.
What are you most excited about right now?
We're most excited about the potential of automation..
For example, "Just Listed" ads that can deploy automatically are a huge time saver for agents and they're a great selling point during listing presentations. Sellers want to see their house online, so we're making it possible for agents to have their listings advertised on top sites as soon as it hits their MLS or back-end software.
We've created an automation product for the Enterprise as well. It's really cool because it follows rules. So broker/owners or franchises can say "I want all of our standard listings to get a 7 day campaign on Facebook, instagram, and Premium websites, but all of our luxury listings to get a 3 week campaign." And that's exactly what will happen. All we need is the data feed to make that happen.
I'm also excited about how advertising is evolving so quickly and can be targeted so precisely. The potential is truly limitless. Where before advertising was typically thought of as being "one-to-many," it's becoming increasingly possible to have real, personal interactions with your target market. That's pretty cool, and definitely exciting.
What's next for you?
We just raised a funding round which gives us more room to continue to expand and serve more people and more markets.
On the Real Estate front, we're seeing tremendous interest from broker/owners and franchises for advertising automation. I believe that advertising automation is the next big category that will be added to the broker's tech stack. If you think about it, they've largely completed the integration of CRMs, transaction management, lead routing, and often times discretionary marketing and advertising tools. But advertising automation is a different beast. Providing marketing and advertising that happens automatically and without the agent needing to lift a finger – that's the kind of differentiation that Brokers are seeking in their quest to recruit and retain the top talent.
And it isn't just the amazing local and regional brokers who want to attract and retain top talent. We recently installed advertising automation for RE/MAX across the United States and Canada. You can see the announcement about that here.
What's a cause you're passionate about and why?
I'm really passionate about supporting local entrepreneurs in the local area. I enjoy working with new startups and sharing what I've learned and guiding people through the entrepreneurial process. We have an incredible startup community here and it's making moves nationally. And of course Adwerx also supports local charities and fundraising drives here in Durham and nationally with Giveback Homes. One of the things that most people don't get to see about Adwerx is how much everyone on the team really cares about the community we're a part of and the community we serve, which is really special and something we'll hold onto as we grow.
Thanks to Jed for sharing his story. If you'd like to connect, find him on LinkedIn here.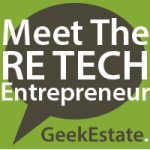 We're constantly looking for great real estate tech entrepreneurs to feature. If that's you, please read this post — then drop me a line (drew @ geekestatelabs dot com).
Posted in