In our latest real estate tech entrepreneur interview, we're speaking with Renwick Congdon from Imprev. I've known Renwick for what seems like ages, though given we are both Seattle-based and work in real estate technology, it surprising took us awhile to finally meet / connect for lunch on the Eastside a few years ago. He's certainly one of the class acts of this industry, and has guided Imprev to a market leader in marketing automation for brokerages.
Without further ado…
What do you do?
I set the vision for the company and the products. I also make sure we have a great place to work, with a smart, conscientious team…that and pay the bills.
What problem does your product/service solve?
Real estate agents have a lot of work to do to be successful. We help broker owners and franchisors help their agents by providing a brand-specific marketing platform for websites, email, social media, virtual tours, flyers, post cards, YouTube videos, brochures (over 50 different products) that agents can easily select, configure, and distribute to their prospects and friends.
What are you most excited about right now?
Automation. As the consumer continues to move online, the number of places and methods agents are required to advertise and market has increased exponentially, as has the effort to keep the marketing materials in both the new and old locations up-to-date. Our Automated Marketing Service (AMS) monitors data feeds, creates or updates marketing and advertising materials as needed, distributes the materials to the appropriate target(s), and notifies the interested parties…all without the agent having to lift a finger.
What's next for you?
I'm going to be a grandfather in September.
What's a cause you're passionate about and why?
Homelessness and food insecurity. As a company, we work with Giveback Homes, and we have the whole company volunteer at the local Food Lifeline.
Thanks to Renwick for sharing his story. If you'd like to connect, you may find him on Linkedin.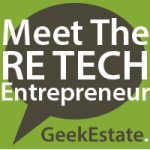 We're constantly looking for great real estate tech entrepreneurs to feature. If that's you, please read this post — then drop me a line (drew @ geekestatelabs dot com).
Posted in