In our latest real estate tech entrepreneur interview, we're speaking with Sasha Hryciuk from Loft47.
Without further ado…
What do you do?
I'm the founder and CEO at Loft47. I lead a team that improves the back office for Real Estate brokerages. Our web based service enhances realtime operations and allows brokers and administrators to make better decisions.
What problem does your product/service solve?
There are a lot of people involved in a real estate transaction — buyers, sellers, agents, legal and escrow companies, loan officers, and insurance agents. Transaction management typically facilitates workflow for all parties in contract creation and execution but there is a disconnect when it comes to the Brokerage accounting and agent payroll. Loft47 is leveraging integrations from various services to allow Brokerages and agents instant access to compliance information, payroll and financial details while offering automation of data entry and workflows. We're a complete accounting and reporting solution for Real Estate Brokerages and we do that really well, but we love integrating with tools that allow the maximum benefit in streamlining the back office workflow.
What are you most excited about right now?
I used to work for a large Brokerage in Real Estate operations and I found it frustrating; the rules around data and accessibility were complex and there were very minimal opportunities to make data work for the Brokerage. We saw multiple layers of redundant workflow, making operations inefficient. With Loft47, we are bringing the concept of data portability to the back office. It's incredibly exciting to work with Brokerages, agents and teams and to offer them a different way of working. Portability means new opportunities and I'm pumped to leave behind legacy constraints.
What's next for you?
Agents and teams manage their own business and we are handing data from the Brokerage back down to the individuals. Never before has an agent been as connected to their own data and had as much access to information. We are tackling our goals of building APIs to new and leading services to assist our clients in leveraging their data.
What's a cause you are passionate about and why?
How do we make industries better? If someone comes up with a great real estate app, build it. If someone has an idea for the next-big-thing, do it! The foundation of Loft47 is collaboration. I don't believe in viewing everything through the lens of competition; there is so much value in people, their ideas and everyone bringing something to the table. Collaborating with other smart service providers is a win-win and eliminates the many speed bumps that occur with existing client server technology.
Thanks to Sasha for sharing her story. If you'd like to connect, you may find her on Linkedin.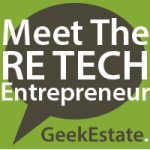 We're constantly looking for great real estate tech entrepreneurs to feature. If that's you, please read this post — then drop me a line (drew @ geekestatelabs dot com).
Posted in