In our latest real estate tech entrepreneur interview, we're speaking with Eric Eckardt, the CEO of Purplebricks in the US.
Without further ado…
What do you do?
As U.S. CEO, I'm responsible for Purplebricks' U.S. market growth, penetration and profitability. I am tasked with preserving Purplebricks' core principles and culture of excellent customer service, value for money, transparency and convenience.  In my role, I lead cross-functional teams that span across product, development, operations, sales and corporate development.
What problem does your product/service solve?
We offer a compelling and viable alternative to the traditional U.S. brokerage model for:
Sellers looking for unparalleled transparency, customer service and value
Buyers seeking greater transactional flexibility, speed and control
Real estate agents who want to spend their time helping people buy and sell homes rather than prospecting for leads
For a $3,200 flat fee, and standard buyer's commission, sellers can list their home with Purplebricks, enabling them to save thousands of dollars compared to what they would normally pay in standard commission fees, which average ~6% in the U.S. Our online platform provides sellers with 24/7 control over the entire sales process from approving listing particulars, arranging viewings and soliciting expert advice to observing unfiltered buyer feedback, receiving offers and negotiating a sale on one of Purplebricks listings.
On the buy side – buyers are able to leverage our agents and our innovative online platform to view all available market listings, access information and advice 24/7, request multiple showings and submit offers in real-time via the Purplebricks website. Importantly, our unique technology and approach to transacting provides buyers with the opportunity to secure their dream home on their time by not having to wait to assign an agent and schedule a showing to make an offer. We also contribute $1,000 to the buyer as a rebate if they select us as their buying agent.
Purplebricks also provides talented professional real estate brokers an opportunity to earn more and work more effectively, benefiting from the combination of territory exclusivity, lead generation from TV-led marketing and web and mobile technology that frees them up to spend more time with buyers and sellers.
We have already saved families millions across the UK and Australia and have recently launched in Los Angeles, California to start of our national expansion.
What are you most excited about right now?
Purplebricks is the pioneering next generation real estate agency. Entering the U.S. real estate market represents a logical next step in our broader growth strategy, and we are  very excited about the future of our industry and being in a position to influence change.  Consumers have become empowered and are demanding great service and value – we've seen comparable trends across a number of other industries.
What's next for you?
Purplebricks is a long-term endeavor in a space I'm passionate about. I'm entirely focused on advancing the company's strategic plan to gain market share in California and eventually expand the platform across the U.S. I'm confident our distinct value proposition will continue to be well-received by all parties involved in the process of buying and selling a home.
What's a cause you're passionate about and why?
Being a parent of two beautiful children myself, I care deeply about the wellbeing of all children, especially those who are less fortunate. I proudly support The National Center for Missing & Exploited Children, helping drive awareness and supporting their cause.   I can't imagine what families go through in extreme situations and organizations like this provide a number of services and support for families across the country to help them navigate these unfortunate events.
Thanks to Eric for sharing his story. If you'd like to connect, find him on LinkedIn here.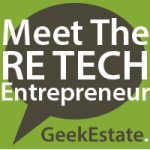 We're constantly looking for great real estate tech entrepreneurs to feature. If that's you, please read this post — then drop me a line (drew @ geekestatelabs dot com).
Posted in