In our latest real estate tech entrepreneur interview, we're speaking with the founder of igloohome, Anthony Chow.
Without further ado…
What do you do?
igloohome is what I've been busy with – we help people manage their homes & properties through innovative technologies. igloohome smart locks and lockboxes allow home & property owners to grant access to visitors remotely, via time-sensitive PIN codes or bluetooth keys.
igloohome is a partner of Airbnb, and can automate the generation of PIN codes for AirBnB guests.
As our products work offline, there are no worries about wifi hacking or disruption. Also, unlike other bluetooth locks out there, guests do not need to download an app to unlock the lock, as our unique PIN code system uses technology similar to the banking token's OTP.
My co-founders and myself are constantly thinking of new and better ways to help home or property owners manage access.
What problem does your product/service solve?
We are solving the issue of key hand-overs, for rental hosts as well as home or property owners. Many rental hosts spend a lot of time, effort and money on passing the keys to their guests, and this is especially inconvenient when there are flight delays or flights that arrive in the wee hours of the morning.
Just in Asia Pacific, there are already 300 million travellers coming in annually, and there are 100 million units of secondary residences. There is a strong demand for the need to manage access without the need to physically be at the property.
Our products help rental hosts and home or property owners grant access remotely whenever they want, thus helping to manage this problem. Also, because the PIN codes and bluetooth keys granted are time-sensitive, they help to keep the property safe after the guest leaves, providing greater peace of mind to the rental hosts and home or property owners.
What are you most excited about right now?
I'm very excited that igloohome's products have already been delivered to 60 over countries, and that we have appointed over distributors in 20 over countries including the USA, parts of Asia Pacific, UK and Mexico. I believe our products will change the idea of access, and am eager to share them with rental hosts and home and property owners across the world.
What's next for you?
What's next for me is how to help igloohome to grow. We are looking at expanding in new markets, such as Europe. We are planning to appoint more distributors in the markets we have plans to enter, who can then help us scale even faster than before.
At the same time, we are also looking at rolling out an even wider range of products – we'll be launching our new premium smart lock (the igloohome Smart Mortise) shortly, which is targeted for both residential and hotel projects. We're also working on new products for commercial and new developments – more details will be released in the coming months!
What's a cause you're passionate about and why?
I'm passionate about education for the underserved. I believe access to education is so important in helping to unlock knowledge and capital that will lead to progress. 5 years ago, I started working with non government organisations in South East Asia to develop opportunities for education for the villages they manage.
Thanks to Anthony for sharing his story. If you'd like to connect, find him on LinkedIn here.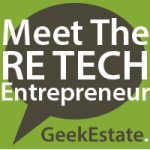 We're constantly looking for great real estate tech entrepreneurs to feature. If that's you, please read this post — then drop me a line (drew @ geekestatelabs dot com).
Posted in