In our latest real estate tech entrepreneur interview, we're speaking with Brian Gaudio, the founder of Module (which was previously written about here).
Without further ado…
What do you do?
At Module, we've created "pay-as- you-go" housing product, enabling homebuilders to provide an affordable and flexible entry point for homeownership. Using our end-end platform & construction technology, any residential developer can sell and build a Module Community. Our homes are designed to adapt and change as customer's needs do, giving buyers the right amount of space at the right time.
What problem does your product/service solve?
New homes today are too big, too expensive, and rarely designed with a human-centered approach. The average new single-family home is 2,700 square feet and $370,000. Many Americans are either priced out of home ownership or don't identify with it anymore. The needs of today's buyer are different than they were in the 20th century: people are getting married later, having fewer kids, and desire a degree of flexibility in their life. They are looking for a home that recognizes and embraces this change.
What are you most excited about right now?
I'm excited about the paid reservations we received last month from our first customers in Pittsburgh! Now my team and I get to translate our customer's needs and dreams into a right-sized, sustainable home.
What's next for you?
We're building the first Module homes in Pittsburgh, which are scheduled to break ground in 2018. We're moving fast and we're seeking talented people who want to make good design accessible to everyone. You can apply to join us here.
What's a cause you're passionate about and why?
By 2050, about 70% of the world's population will live in cities. Most of this urban migration will happen in the developing world. Those moving to cities won't be living in high-rise apartments; they'll be living in informal settlements and substandard housing. I learned a lot about this problem while directing a documentary on the global housing crisis called Within Formal Cities. Some organizations I've met who are addressing this issue in Latin America and are worth supporting include TECHO and Atelier Metropolitano.
Thanks to Brian for sharing his story. If you'd like to connect, find him on LinkedIn here.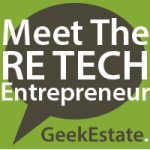 We're constantly looking for great real estate tech entrepreneurs to feature. If that's you, please read this post — then drop me a line (drew @ geekestatelabs dot com).
Posted in