In our latest real estate tech entrepreneur interview, we're speaking with the CEO of Onerent, Greg Toschi.
Without further ado…
What do you do?
I am the CEO and co-founder of Onerent and the man of all hats involved from customer escalations, to funding, to business development. For me, there is no typical day at Onerent. Like any startup, we're facing challenges from all directions. One of the most challenging parts of my day is making decisions on what our company priorities are and what to focus on.
An area of focus I like to give more attention to is our customer facing teams. Working with our customers directly is an opportunity to understand their concerns at the ground level. I've noticed the times when I haven't opened my ears towards our customers, I felt disconnected. Collaborating with our customer facing teams gives our executive team insight into how we can improve our customer experience.
What problem does your product/service solve?
Onerent provides a hassle-free rental service to modern renters and homeowners. We're on a mission to create a more seamless and consistent rental experience in the real estate space. Our integrated platform and boots-on-the-ground approach allows us to provide on-demand showings, instant renter screening, AI-powered rental performance data, proactive maintenance recommendations, autonomous move-ins, guaranteed rent payouts, and 24/7 support. With teams currently in the San Francisco Bay Area, Seattle,  San Diego, and Los Angeles managing over $750m in assets, Onerent is actively expanding to new locations throughout the country.
What are you most excited about right now?
I am incredibly excited for Onerent's potential to scale into new markets. In the early days of Onerent, we handled every aspect of our service manually. As we grew, we were able to integrate technology automation where it's needed and keep the human touch where it seems fit. By launching our services into new markets, such as Los Angeles in Quarter 1 of 2018, we can use our learnings from other markets and overall improve the service to more property owners and renters.
As far as trends and where the real estate industry is going, I want to see how technology is affecting the relationship between the customer and the agent. For the last few decades, the real estate industry has been slow to adopt new technology, even if it can make a business more efficient. I believe this is due to the fact that many key players in the industry have had a fear that technology would drive away the relationship between service provider and customer. Real Estate is a very relationship driven business, and technology in this space can further enhance the relationship when presented in the right user interface. Real Estate tech companies such as OpenDoor, Airbnb, and Compass, are now triumphing over companies who are not utilizing technology. Similar to how Amazon added technology into commerce and logistics, we're approaching technology from a new perspective that ensures a seamless experience for both home owners and renters when leasing and managing a home.
At Onerent, we have the goal to enhance how relationships between customers, agents, and technology platforms interact over the long term.
What's next for you?
We plan to refine our product, scale into new markets, and add more automation to enhance the relationship between Onerent customers and their rental property. One method that can enhance the experience for Real Estate investors is how they interact with data.
A data driven interface can create a relationship between owners and their homes by adding insight into costs of owning rental property, their leasing and maintenance activity, and ROI. We've found that owners who adopted this information through our platform enhanced their relationship with their home through a more strategic approach over emotionally driven decisions.
As far as where Onerent is heading, we believe there will always be a human touch to Real Estate. However, I think where human touch is being experienced is changing . This is why it is so crucial for the product to be the basis of the relationship. It is not just about the transaction, it's the whole experience. We believe the product can be the center of that to improve consistency and satisfaction.
What's a cause you're passionate about and why?
Aiding in the homeless population is a large passion of mine. It's almost a paradox that we are based in the San Francisco Bay Area with some of the highest paychecks in the world and we still see homelessness rates on the rise. Homelessness affects every industry around the block and is influenced by many factors, not solely rental rates. There needs to be a sustainable solution to the community. The solution isn't entirely clear as of now, however I am confident that it needs an all hands effort within the community.
Thanks to Greg for sharing his story. If you'd like to connect, find him on LinkedIn here.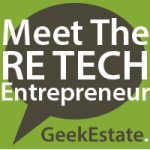 We're constantly looking for great real estate tech entrepreneurs to feature. If that's you, please read this post — then drop me a line (drew @ geekestatelabs dot com).
Posted in