In our latest real estate entrepreneur interview, we're speaking with Monica Breckenridge, CEO of Pink Realty.
Without further ado…
What do you do?
I am the owner/CEO of Pink Realty Franchise.
What problem does your product/service solve?
I am all about helping people. As a franchise I offer my franchisees mentoring and coaching and give them a brand that will help them stand out. Most agents blend in with every other agent in town. Not with Pink Realty! I teach them how to get leads and how to grow their business because that's not something that you learn in Real Estate school.
What are you most excited about right now?
I am very excited about franchising my company. This is my passion and I love sharing my knowledge with others to help them. We also are building a brand new office building which should be done at the end of July!
What's next for you?
I plan to have a franchise in every city! Right now we are recruiting and looking for great candidates who are just as passionate as I am about Real Estate!
What's a cause you're passionate about and why?
I am very passionate about animals. I hate when animals are abused or mistreated. I also love cycling and am very active in the cycling community here in Colorado!
Thanks to Monica for sharing her story. If you'd like to connect, find her on LinkedIn here.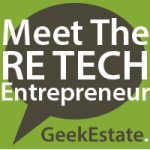 We're constantly looking for great real estate tech entrepreneurs to feature. If that's you, please read this post — then drop me a line (drew @ geekestatelabs dot com).
Posted in