In our latest real estate tech founder interview, we're speaking with Amit Haller, co-founder of Reali.
Without further ado…
What do you do?
As CEO of Reali, I'm the number one salesman of the company. I sell all day long. I sell our product and value to our customers, ideas to my team, our vision to our investors, and opportunities to our partners. Our business is growing exponentially. As we expand, it's my responsibility to make sure that we choose markets that are the best fit for our business while maximizing efficiencies. All while empowering my team to offer the best experience possible to our customers and embracing new technologies.
What problem does your product/service solve?
Reali makes it easy for customers to buy and sell a home using our app technology. With fully licensed Reali Experts working behind the scenes, we guide home buyers and sellers through the entire real estate process, and we do it for a flat fee. Leveraging technology, we have put thousands of dollars back into the hands of buyers and sellers. Reali's flat fee model for both buyers and sellers replaces the costly and inefficient commission model used in real estate transactions today.
What are you most excited about right now?
What I'm most excited about is seeing our customers fully-aligned with our vision and willing to be part of a changing real estate industry. We're working on a new product offering that will use AI to provide our customers with pricing insights in ways that haven't been seen in the real estate industry.
What's next for you?
Reali is focused on helping home buyers and sellers keep more money in their pocket and reducing anxiety when it comes to real estate transactions. We currently serve the Bay Area and Sacramento and we are expanding our footprint. It's my job to help us get there. In the second half of 2018, I'll be laser-focused on company growth and working with our team of engineers and Reali Experts to keep innovating the real estate space. I can't think of a better job than that!
What's a cause you're passionate about and why?
I really care about animals and causes related to animal welfare. My dog Lulu is a rescue, and I hope to adopt another pet this year. I also enjoy traveling and recently returned from Tanzania, Africa where I spent time learning about animal wildlife and protection.
Thanks to Amit for sharing his story. If you'd like to connect, find him on LinkedIn here.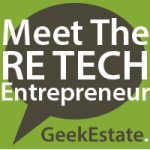 We're constantly looking for great real estate tech entrepreneurs to feature. If that's you, please read this post — then drop me a line (drew @ geekestatelabs dot com).
Posted in