In our latest real estate tech entrepreneur interview, we're speaking with  David Shapiro, co-founder of EquiFi Corporation.
Without further ado…
What do you do?
I created EquiFi to be a blend of a Fintech and Specialty Finance Company. It offers an equity-based home financing product for homeowners and homebuyers and give investors access to home price appreciation in the $30 trillion housing market through the Equity Funding Instrument (EFITM). The EFI is an alternative financing instrument that provides new home buyers with the ability to benefit from an equity co-investment in the purchase of their home and offers existing homeowners a new channel to access the existing equity in their homes.
What problem does your product/service solve?
I help liberate consumers from the burden of overfinancing their homes, thereby creating greater and more diversified wealth while increasing the population of qualified home buyers giving real estate agents a larger market to prospect.
What are you most excited about right now?
I organized EquiFi as a Public Benefit Corporation which is a C Corporation that has a stated social purpose. I am finally getting Wall Street to realize that a PBC can also make money.
What's next for you?
We are working on an upcoming product launch with mortgage originators and a housing finance agency.
What's a cause you're passionate about and why?
Personal financial awareness and financial psychology. I'm an entrepreneur, an author, and a speaker. I've written extensively (3 books and countless articles) on financial well-being and needs-based selling. The challenges have never been greater than they are today with the largest generation (millennials) at risk of not learning the single most important component of financial planning…compound interest!
Thanks to David for sharing his story. If you'd like to connect, find him on LinkedIn here.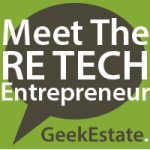 We're constantly looking for great real estate tech entrepreneurs to feature. If that's you, please read this post — then drop me a line (drew @ geekestatelabs dot com).
Posted in