In our latest real estate tech entrepreneur interview, we're speaking with founder and CEO of RentHoop, Paul Burke.
I met Paul a few months ago at Impact Hub in Seattle (he's from Seattle, but lives in Los Angeles now), and found myself thinking through all the similarities between Paul's RentHoop journey and my Oh Hey World / Horizon journey.
Without further ado…
What do you do?
We help people find roommates. Our mobile app shows you potential roommates whom you have mutual friends and interests with as well as all the rental information you'd like to know: budget, photos of the room they have available, Deal breakers, school and work history.
What problem does your product/service solve?
We take the creepiness out of finding a roommate. People are highly dissatisfied with Craigslist, especially women, and our product provides a couple layers of safety that reduces the risk of something bad happening.
What are you most excited about right now?
We've made a slight pivot to the blockchain that will revolutionize the rental industry. There is much opportunity to provide a streamlined process that allows for greater transparency and accountability for renters and landlords.
What's next for you?
Getting ready for a token sale in the next few months while we continue to grow our app presence and aim to be the best roommate finder at colleges and in Los Angeles, Seattle and Bellingham.
What's a cause you're passionate about and why?
My Mom does a lot of work with orphanages in Egypt. She's absolutely incredible and has made a massive impact on a ton of children's lives. Coming from an Egyptian family, it's humbling to know that we came from the village that she contributes to so much. I'd like to get more involved in the future and be someone who makes a similar impact.
Thanks to Paul for sharing his story. If you'd like to connect, find him on LinkedIn here.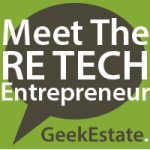 We're constantly looking for great real estate tech entrepreneurs to feature. If that's you, please read this post — then drop me a line (drew @ geekestatelabs dot com).
Posted in