In our latest real estate tech entrepreneur interview, we're speaking with Ryan Freed, co-founder of hOM. Given their emphasis on building true community via face-to-face interactions (the ONLY way to build real "community" in my mind), it's no surprise I'm a fan of their approach. I had the chance to meet Ryan for drinks in Seattle a few weeks ago, and glad to have him as a recent addition to the Geek Estate Mastermind.
Without further ado…
What do you do?
I am the co-founder of hOM. We help commercial and residential landlords build communities through technology, fitness, and lifestyle events. I run sales, business development, and market growth for the company.
What problem does your product/service solve?
We are solving a few problems:
With the rise of WeWork and Co-living communities landlords are looking to stay competitive in a changing environment. We help bring them a completely seamless programming option to build community and convenience for their tenants helping them retain tenants and keep competitive rents and properties.
For the tenants themselves, our customers, we are saving them time in seeking out a wellness option by bringing boutique fitness classes directly to their home and work. We are also making cities, that can sometimes feel lonely, feel like a much more connected place.
For our yoga instructors who service out properties we are solving the independent contractor problem. Instructors are used to running all around the city with unpredictable income and no benefits. We employ all of our instructors with full-time salaries, full benefits packages, and provide a job with a mission they are passionate about.
What are you most excited about right now?
Two things:
We just released, to our knowledge, the first ever maternity/paternity policy for yoga instructors!
The evolving commercial real estate landscape. Commercial landlords are recognizing amenities, community, and convenience as an integral piece of the work-place. At hOM we are focusing heavily on bringing our product and services to the commercial real estate landscape so we can create positive change in the work-place through wellness and happiness.
What's next for you?
New markets. We are growing the hOM mission first to Toronto then to Seattle with more markets to follow.
What's a cause you're passionate about and why?
I am very passionate about mental health and how meditation and wellness can lead to happier and healthier lives for everyone. Particularly the benefits of meditation and alternative health-care for cancer patients as it can not only help prevent and assist in curing disease but also leads to true awareness and love of your self whether you are going through cancer or in your every day life.
Since the above is closely related to my business I'll highlight one other cause
Animal Welfare. Consumerism has created a broken system when it comes to the food we consume and the material objects we possess. As a result corporations and laws have followed suit to the mass "production" of animals through harmful practices to animals and our environment. I am passionate about improving the system and contributing to causes that do so.
Thanks to Ryan for sharing his story. If you'd like to connect, find him on LinkedIn here.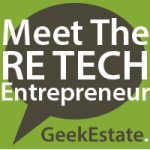 We're constantly looking for great real estate tech entrepreneurs to feature. If that's you, please read this post — then drop me a line (drew @ geekestatelabs dot com).
Posted in