In our latest real estate tech entrepreneur interview, we're speaking with Jeremy Gall from Breezeway.
Who are you and what do you do?
I'm Jeremy Gall, Founder & CEO of Breezeway. Breezeway is a platform that automates property maintenance, care and service interactions to make it easy for hospitality providers to deliver the best experience to guests, tenants and owners.
Prior to Breezeway I founded a company called FlipKey.com in 2006, and grew it into one of the leading vacation rental listing and review sites before TripAdvisor's acquisition in 2013. In working with thousands of property managers I saw that guests were starting to expect higher-quality properties and more concierge service. This trend really excited me, and I began to think that maintaining the highest quality property conditions, branding the guest's experience, and delivering more concierge offerings was the future of property management.
It was with this thesis that Breezeway was born. Based in Boston, MA, we're on a mission to power the future of property care and services.
What problem does your product/service solve?
There are so many variables to consider in property management – unique properties, unpredictable scheduling, multiple locations, and frequent service requests – short-term operators often struggle executing successful back-office operations. Managers too often resort to leveraging outdated processes (manual scheduling, using paper checklists, communicating issues through text messages), which leaves them exposed to unprepared units, disgruntled guests, and owner issues.
Our operations platform equips property managers with the tech they need to deliver amazing rental experiences. Combining deep learning technology, robust property data, smart messaging, and mobile-first task management, our tools enable hospitality providers to improve the quality of their services, increase their operational efficiency, and capture the full value of their service.
What are you most excited about right now?
It's an exciting time for our industry. Travel continues to grow in popularity and there's so much opportunity to offer more value to hospitality providers and operators.
We're significantly expanding the Breezeway team this year to execute on an exciting product roadmap. Property management has been reactive and transactional for too long – we're going to build even more functionality to deliver predictive property management.
What's next for you?
Vacation rental safety is a big part of our plan for 2020. Guests want to stay in high-quality properties, and safety and regular maintenance is at the very core of this expectation. We just rolled out a new safety & certification program, and hired a nationally recognized vacation rental expert to lead the department. We're offering certification products for owners, property managers, associations, and municipalities.
Fun fact: We made a splash into vacation rental safety last fall when we were featured in the 'consumer confidential' segment of Today Show. The piece featured a room-by-room walk-through where we discussed a handful of items that guests should be mindful of when they enter their rental. We're looking forward to doing our part in ensuring guests have an amazing vacation rental experience.
What's a cause you're passionate about and why?
I'm passionate about environmental sustainability. I think global warming is the single biggest threat to humanity, and that individuals, corporations, and policy makers all need to be held accountable for their actions.
People seem to think we've passed the point of no-return, and that individual decisions and advocacy won't move the needle. I challenge both of these assumptions. We all need to do better and it starts with little things like bringing re-usable bags to the grocery store and swapping out florescent for LED lightbulbs.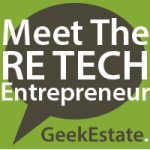 Thanks to Jeremy for sharing his story. If you'd like to connect, find him on LinkedIn here.
We're constantly looking for great real estate tech entrepreneurs to feature. If that's you, please read this post — then drop me a line (drew @ geekestatelabs dot com).
Posted in