In our latest real estate tech entrepreneur interview, we spoke with Zlatko Bogoevski and Robert Turnbull from BetterBot.
Without further ado…
Who are you and what do you do?
Zlatko- I'm one of the co-founders of BetterBot, prior to starting BetterBot, I built and ran a successful Atlanta-based custom software development firm where my team designed a proprietary bot platform specific to the Multifamily and Builder Industries. My role as CEO and Chairman of BetterBot is to help create the most successful bot for real estate rentals.
Robert – I make up the other side of the coin as co-founder of BetterBot, in a not so distant past life, I helped built several successful Multifamily businesses such as ApartmentGuide.com, Rentals.com, RealEstate.com, RentWiki/RentAdvisor, and LivePerson. My role as President and COO is to markedly move our business forward every day by helping our business heads excel at their roles and helping influence the perceptions in the Multifamily Industry.
What problem does your product/service solve?
BetterBot frees up leasing teams from low-value, menial and repetitive tasks so they can focus on converting prospects to leases, providing tours, and assisting residents. By doing so, it will save time and ultimately money for properties.
What are you most excited about right now?
BetterBot is just at the start of what we can do with Guided Conversations and the countless integration partnerships that we are exploring. As we continue to find ways to elevate the leasing experience for prospects, give leasing teams more time in the day, and provide residents with round the clock support.
What's next for you?
We are launching our 2.0 Dashboard which will give our clients improved access to the data collected from BetterBot, manage and personalize their bots, allow them to order more bots on demand, and track top of funnel performance.
What's a cause you're passionate about and why?
Gap needs. One of the greatest causes of families without food or homes are gap needs. These are people and families that want to work, be responsible, and provide for themselves and their family but had an issue that disrupted their income. It could be a job loss, a medical issue, any number of life's curve balls. They just need some temporary help while they get back on their feet which is why we created FiksOne.org to identify and assist these folks.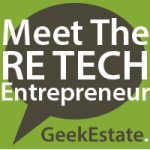 Thanks to Zlatko and Robert for sharing their story. If you'd like to connect, Find Zlatko's LinkedIn Here and Robert's LinkedIn here.
We're constantly looking for great real estate tech entrepreneurs to feature. If that's you, please read this post — then drop us a line (community @ geekestatelabs dot com).
Posted in