This week, we interviewed Aaron Letzeiser from Obie.
Without further ado…
Who are you and what do you do?
My name is Aaron Letzeiser and I'm the Co-Founder and COO of Obie. Obie is an insurance and risk management platform for landlords.
What problem does your product/service solve?
Obie brings a fast, transparent, and consultative approach to the insurance process for investment properties. Insurance is one of a landlord's largest expenses, but also the one they have the least amount of control and insight into. It's been a black hole for far too long and when saving money means higher NOI and property value, it's important to know you have market best pricing that didn't take weeks or months to find and procure.
What are you most excited about right now?
I love seeing the collaboration between real estate tech platforms. Successful adoption of new and innovative solutions happens in the real estate space when a company recognizes a singular problem and attacks it head on. It makes it easy for clients to realize the ROI and it's not super complicated to adopt the product and make the change. The magic happens when synergistic platforms start to collaborate and roll out additional complementary features to their clients. A leasing platform can syndicate out to a new marketplace. A property management platform can offer insurance. A brokerage management platform can sync with digital accounting and commission tracking. All of this helps to move the industry forward.
What's next for you?
Instant insurance quotes. Home and auto insurance are easy to shop for from your couch. 3-5 minutes, 7-10 questions, and you're done. We're bringing that to the real estate investment space with the first instant insurance offerings.
What's a cause you're passionate about and why?
The intersection of technology and affordable housing, and the way that tech can play a role in new housing development strategies, streamlining the tenant experience and obligations, and cutting costs for landlords. When all three work together, there are ways to provide housing that's affordable while also making a healthy return.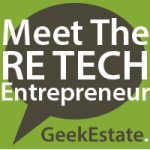 Thanks to Aaron for sharing his story. If you'd like to connect, find him on LinkedIn here.
We're constantly looking for great real estate tech entrepreneurs to feature. If that's you, please read this post — then drop us a line (Community @ geekestate dot com).
Posted in