In our latest real estate tech entrepreneur interview, we're speaking with Brian Davis from Spark Rental.
Who are you, and what do you do?
My name is G. Brian Davis, I'm a landlord and co-founder of Spark Rental.
Our mission is to help everyday people reach financial independence and retire early with real estate. If that sounds specific, it actually covers a wide range of disciplines. We teach people how to invest in rental properties, of course. Our blog and free videos cover topics like how to buy property with minimal money down, financing options for rental properties, some of the best cities for rental investing based on a range of data, and so on.
Because rentals are long-term investments, they need to be managed. So we focus heavily on property management education, and we offer free landlord software to help mom-and-pop landlords manage their rentals.
But there's also the personal finance side of the equation – to reach financial independence at a young age, you need a high savings rate. The more of your income that you save, the faster you build wealth and passive income. So we get into budgeting, tricks like house hacking, how to handle health insurance if you retire early, and dozens of other lessons. We even cover how stock investing and where stocks fit into your financial independence plan.
What problem does your product/service solve?
Our business solves two problems. First, we want our audience to understand that they have complete control over their finances and retirement horizon. You can design and live your perfect life, but it usually involves short-term sacrifices to create your perfect life long-term.
Want to retire in five years? You can do it, but it requires radical lifestyle changes and aggressive investing. Most people simply spend almost everything they earn, and then complain that they don't earn enough to invest. Few people acknowledge that their current budget represents a choice, even if one made thoughtlessly.
Second, we help landlords and smaller property management companies automate their rental management. Our online landlord software lets you syndicate your rental listings to platforms like Zillow and Trulia, collect rental applications, run tenant screening reports with one click, create lease agreements, collect rent online, and track income and expenses.
What are you most excited about right now?
What I'm most excited about right now is a new co-investing program we're preparing to launch. We're going to help new investors earn while they learn, by partnering with us on rental property deals. They become true partners with an ownership share, and get access to see behind the scenes of finding deals, renovating properties, screening tenants, and so forth.
It's a bit tricky, as we have to tread carefully to avoid the label of real estate syndication by the SEC. Even trickier is making the numbers work, as there's a lot of labor involved on our part and little direct compensation for that labor. But education is a priority for us, and we're determined to give everyone, not just accredited investors, access to directly partner on rental deals for as little as a few hundred dollars.
What's next for you?
Deni and I have several large projects on our plate in the coming year. We're planning a major overhaul of our software, to vastly improve usability and reduce pricing even further if we can do so profitably. We're also constantly updating and expanding our FIRE from Real Estate course, designed to help middle-class earners reach financial independence and retire early (FIRE) with rentals.
Finally, we're looking to scale and grow our team to keep expanding our business. My co-founder Deni Supplee and the rest of our team are stretched thin at the moment, so we're gradually systematizing and scaling our business to grow without losing our vision. We've never been interested in the Silicon Valley model of gobbling up as much cash as possible. We want to maintain complete control of our business and serve our audience as best we can for many years to come.
What's a cause you're passionate about and why?
We're a family business, and want to stay a family business. That's actually something I'm quite passionate about: supporting other family businesses. Whenever possible, we choose family businesses and small businesses as our partners. In my personal life, I shop at family businesses and avoid mega-corporations whenever possible.
Despite what the naysayers will tell you, I believe now is a better time than ever to launch and grow a
small family business.
I'm also a huge believer in financial literacy. They don't teach personal finance in schools, yet we're all expected to manage our own budgets, investments, and retirement planning? And it only makes the problem worse that our culture has a taboo against talking about money. Most parents can't or won't teach their kids personal finance, so adults end up having to learn it on their own. Except of course most never do. It's an enormous loss of potential in our economy.
Finally, I'm a travel fanatic. My wife Katie and I spend the majority of the year overseas and visit an average of ten countries a year. Katie's an international school counselor, and as a digital entrepreneur, I simply rent an office in a local coworking space. Our home base for the last four years was Abu Dhabi, and we recently moved to Brasilia, the capital of Brazil.
Which is one way I practice what I preach – my wife and I live entirely on her modest salary, which is comparable to a teacher's. We invest 100% of my income, and plan to be financially independent in the next four or five years. Yet we still live a relatively luxurious life because we house hack, live without a car, and pay very little in US income taxes. It all comes down to intentionally designing your perfect life!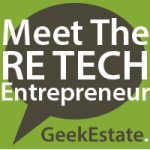 Thanks to Brian for sharing his story. If you'd like to connect, find him on LinkedIn here.
We're constantly looking for great real estate tech entrepreneurs to feature. If that's you, please read this post — then drop me a line (drew @ geekestatelabs dot com).
Posted in