In our latest real estate tech entrepreneur interview, we're speaking with Lara Gabriele from HomeWayz.
Who are you, and what do you do?
My name is Lara Gabriele and I have been involved in some aspect of the Real Estate Market since 1997. I didn't realize until now that my path in life was going to lead me to this. I graduated high school and my first job was in banking. I learned everything from Loan Servicing to Fraud and Foreclosure to Processing and Underwriting through to selling actual Real Estate.
My background as a child was different in that my father died when I was young and my mother, who was from Lebanon, had to become the breadwinner. I learned early on that as a woman and a minority I was the only one who would be able to take control of my future. As a woman in Real Estate tech… well that was going to be much more difficult. Watching my mother struggle made that more real for me. I soaked up knowledge at every turn. Once I started to sell Real Estate it was evident that there were many manual tasks that could have and should have been automated so that the daily agent could do their job faster and much more efficiently than we were already doing. I was always asking my brokers where this technology was? Aside from lead gen and so-called training what were they really offering for a large percentage of my commission?  Crickets…. so I decided to do it myself. I set forth to truly automate the things that agents do manually on a daily basis to free up their most valuable and limited resource: time.
What problem does your product/service solve?
HomeWayz Solves the not so glamorous problem of taking on the mundane tasks that an agent must accomplish in order to help their clients buy and sell the largest asset of their lives. We have created a truly unique fully automated workflow solution that allows for you to use automation for things like route generation, home schedules, feedback data, home search and allowing your client to have their own dashboard so they can enjoy the Journey. We created the first of its kind algorithm that will allow all of this to be done with a push of a button.
HomeWayz will eventually allow you the agent to do everything from uploading lead gen and CRM functionality to remarketing to your SOI while conduction a complete transaction on the platform at the same time. Yes, It's a lot, but we have taken this on so you no longer have to.
What are you most excited about right now?
Honestly, everything. The industry is on tilt at the moment. The big boys are fighting amongst each other because they believe that the agent only cares about the front end of the funnel: lead gen. When you talk to veteran agents like myself we know that our business is so much more than that and we need help.  I can't wait to put my solution in the hands of the everyday agent on the go and see what they can accomplish with it! It will be an amazing turn of events once the agent has the ability to fully automate the most basic of processes.
What's next for you?
We are headed to Inman Connect to showcase the core functionality of HomeWayz, the automated showing and route planner with Feedback. Once we get back we will be working on adding more features that are engaging and help showcase what an agent can really do in the eyes of their clients.
What's a cause you're passionate about and why?
Being Middle Eastern I am always concerned about what is happening there, The Middle East is made up of so much beauty and diversity that many times I believe that is lost through media and politics. I try to mentor people who have come to this amazing country.  I work with the Women's Junior League and other outlets to help as much as possible.  Open dialogue and diversity are what this country is truly about..we are a beacon for so many other countries when it comes to many of the freedoms that they are not allowed to express. It truly makes me proud to be an American.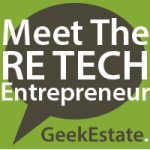 Thanks to Lara for sharing her story. If you'd like to connect, find her on LinkedIn here.
We're constantly looking for great real estate tech entrepreneurs to feature. If that's you, please read this post — then drop me a line (drew @ geekestatelabs dot com).
Posted in