In our latest real estate tech entrepreneur interview, we're speaking with Lucas Haldeman from SmartRent.
Who are you and what do you do?
I'm Lucas Haldeman, and I Co-Founded and serve as the CEO of SmartRent, an enterprise home automation company powering the intelligence behind 80,000+ smart homes in multifamily residences across the country. I've spent over two decades developing web-based technologies in the real estate space, initially as employee no. 18 at AllApartments.com (the first site to publish a national database of apartment communities online), and post-exit was with Homestore.com (now Move, Inc.) through a successful IPO. Prior to founding SmartRent, I served as Chief Technology and Marketing Officer of Colony Starwood Homes (NYSE: SFR), developing a custom platform that helped the business acquire, renovate, lease and manage more than 40,000 single-family homes in 12 states.
What problem does your product/service solve?
Despite the growing demand for and proliferation of smart home devices, multifamily communities haven't had a way to appeal to renters that want that smart device connectivity in their homes, but are unable to invest in or own their own products due to the provisional nature of renting a home. Multifamily owners needed a solution that combined an enterprise and consumer approach, but most IoT platforms and products are too complex to properly implement.
That's why we are revolutionizing the way rental properties manage their assets and market to their residents. Our goal is to make it easy for multifamily communities to offer their residents luxuries like smart home tech that previously only applied to single-family homeowners. Residents enjoy the advantage of having smart devices in their rental home with full control over them, while property managers and owners have peace of mind in knowing their assets are protected and are notified of issues (like a leak) before they become a catastrophic, costly event.
Our platform has also solved a lot of problems property managers face today. Properties no longer have to worry about using or losing physical keys and instead have the ability to assign digital access codes for things like maintenance work orders, vendor access, prospective resident self-guided tours and more. Simply put, our platform saves time and money for property owners as well as creating a new revenue stream for them, and a heightened living experience for their residents.
We do all of this with a focus on security and privacy, so residents can enjoy an upleveled experience without worrying about compromising their privacy. We never sell customer data to third parties and property managers only have access to information that would impact their assets, like leaks or thermostat issues. Consumer behavior will always remain private so renters can enjoy the benefits of a full smart home ecosystem without worrying about their security or privacy.
What are you most excited about right now?
I'm most excited that we're bringing the benefits of smart home technology to people who have been traditionally excluded from utilization – our clients run the gamut from luxury apartments to affordable housing, but all are rentals. And renters simply have not been able to fully experience a full smart home ecosystem until now. I'm eager for what this holds for the future, and how these multifamily properties can evolve to support how we live our lives today. Helping to bring the population of 43 million renters in the US into the next era of living — which includes full-fledged smart communities and amenities for seamless transactions in the on-demand economy (rideshare pickups, food and package delivery) — is exciting for us.
What's next for you?
SmartRent had a big year of growth in 2019 — we announced our Series B followed shortly by an extension from the Amazon Alexa Fund, rolled out a self-guided tour solution and launched our Alloy Fusion Hub, which serves as the center of the smart home ecosystem. We also recently became the first smart home vendor to integrate with the four top property management systems. We're excited to continue this momentum into the future, offering new and existing customers new technologies and conveniences to simplify residents' lives, streamline property managers' jobs and increase revenue for property owners. Top of mind for us are appliances with predictive maintenance, like leak sensors that can shut off a valve before a flood even begins and HVAC units that connect to utility monitoring services that help monitor meter levels, or sensors in connected common areas so residents can determine things like open parking spots or available gym equipment before arriving.
What's a cause you're passionate about and why?
In conjunction with my career in real estate I have always felt strongly about supporting organizations helping all people find suitable housing; more recently as I have watched (and hopefully been an advocate) as my partner has moved from breast cancer victim to breast cancer survivor I have become passionate about finding a cause and a cure.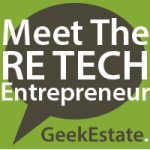 Thanks to Lucas for sharing his story. If you'd like to connect, find him on LinkedIn here.
We're constantly looking for great real estate tech entrepreneurs to feature. If that's you, please read this post — then drop me a line (drew @ geekestatelabs dot com).
Posted in