I'd like to introduce you to a new online real estate marketplace for the vacation rental segment of the industry: Vrolio.
I've spent the majority of my career in three core areas: real estate, travel (Oh Hey World & Horizon), and community. That's why I was so excited to meet Vrolio's founder, Erica Muller. Her startup is mixing two of those three areas together. We originally connected on a FB group thread about vacation rentals — and after we got acquainted over a long phone call, Erica Muller signed up as one of the 130+ Geek Estate Mastermind members (at the time she joined, I believe there were only 100 members). We've been in touch since, and had the chance to meet in person during Inman in San Francisco this past summer.
I had the chance to ask Erica a few questions to elaborate on the Vrolio journey, and was happy she obliged amidst her busy schedule launching the product.
Without further ado…
What do you do?
We're an online real estate marketplace for the vacation rental investing niche that features curated data on properties specific to the vacation rental niche. Our main customers are the investors, the property owners and industry professionals that service the vacation rentals niche.
What problem does your product/service solve?
Investors currently don't have one simple place to locate and research active real estate inventory that would be approved for this type of usage. VR Property owners are dependent on MLS systems to sell this unique type of property, however, the MLS doesn't offer real estate agents or owners the ability to showcase the data pertinent to this type of investment. Vrolio solves this problem by combining data from over 4 sources on each property and presenting it to the investor, saving them weeks and sometimes months of research time. Investors are then able to quickly make a purchasing decision as well as get connected with their future service providers which, in some cases, can lead to a premium selling price to the owner. It's a win-win for both the investor and the owner.
What are you most excited about right now?
I have been working on Vrolio for almost 2 years!! And I've poured over 10 years of my vacation rental real estate experience into it so I'm just beyond excited to finally take this to the market and help fill a gaping hole in both the real estate and vacation rental industries. We've had a few setbacks over the year and it hasn't been easy not having a tech background and having to learn as I go, but I'm so excited to finally see how users get value from Vrolio and how we can continuously improve to create an even better experience for the customers. Beyond that, it's just exciting to know that vacation rentals finally have a place to call home and gaining traction really validates the industry a the key player in the world of real estate investing. So that's pretty exciting for me as a real estate investor/agent first and foremost.
What's next for you?
Even though we've finally launched, there's still a tremendous amount of work to be done with Vrolio and I'm fully prepared and ready for the journey. We're in in the fundraising process right now so that is definitely where my focus will be over the next 6 months alongside marketing, planning and rolling out new features. We have a pretty small team at the moment and it's mostly tech, so little by little I am trying to fill the hats I'm wearing with the right people so that I can focus even more time on growth and improving upon the product's data.
What excites you about the intersection of real estate and travel?
These are two powerhouse industries we're talking about. There's just so much opportunity for growth and innovation when you combine the two. It's a wide-open space right now prime and ready for outside the box ideas to come along and shape it. The amount of spending on travel by millennials is enormous so we've already validated the travel industry as a worthy contender of an investor's money. The baby boomers and Xennials really drive the real estate investment scene on the vacation rental side so knowing they have a built-in demand for their product really makes the investment a no-brainer for most real estate investors. What REALLY excites me is all the millennial investors that we hope will start jumping into the real estate investment scene over the next decade. Millennials are perfectly positioned to dominate the world of vacation rental investments because they know their client base better than anyone. I think it still might be premature for that demographic to start adopting this investment strategy but they aren't too far off. The Xennials really are laying the groundwork strategies and formulas for how to invest in this scene. What I love about the Xennial investors and real estate agents is they are teaching both the baby boomers and eventually the millennials, from a tech and marketing perspective, how this whole VR investment thing works and we really want to support those that are innovating this industry. That's what excites me, giving them a platform and a place to do business.
What's been the hardest, or most unexpected, aspect of launching your product to the world?
I think whenever anyone is launching anything new to the world there's some sense of vulnerability. You work so hard on something, pour your soul and money into it, you know it's good and you believe it will be welcomed with open arms (and hopefully you did your market research too!!) but there's still that feeling of butterflies in your stomach when you first launch. It's a mix of excitement and curiosity. I really believe it's hard for some people to feel vulnerable but it's so important. I don't mean in a weak way, I mean being ready and willing to take on the criticism and feedback without allowing it to feel personal. Like anything we create in life (even our kids), we want other people to like it. It's natural to want and seek validation for what we've created. The reality is, there will always be people who don't see the vision, understand it or even like it. I look at products like Zillow and how much heavy criticism they get. As a real estate agent, I understand the perspective of agents and why they might feel the way they do. As a tech founder, I really appreciate and remain in awe of the amount of time and code that goes into bringing something like that to fruition and growing it to the level it was grown to. So I guess what I'm trying to say is that I didn't expect to feel so vulnerable and excited at the same time about launching this product. I wouldn't say it's hard but it's definitely unexpected. When I was knee deep in work with my dev team every day for over a year I had a one-track goal and that was to create an innovative and cool product. I knew I would come up for air later and deal with the "easy" stuff later. It turns out that easy stuff is actually the hard stuff. Facing the opinions of the masses. But I'm ready for it. We've already received a ton of positive and valuable feedback from our beta users and were able to tweak things and even enhance quite a bit. That validation was great for me because it validated what I already believed about the product but also created a craving for more feedback, whether positive or negative.
What's a cause you're passionate about and why?
I'm a HUGE animal advocate. I'm an active PETA supporter, vegetarian and I spend as much of my free time as I can spare (which lately there hasn't been much) helping out causes that work with animals. There are so many causes out there that are absolutely worth spending time and money on but for me, in my heart, it's the animal kingdom that I feel I have a mission and purpose to help in my lifetime. I don't go around with signs shaming people for eating meat or anything like that, I would never take that approach. I needed to clarify that because a lot of people hear PETA and that's the first thing they think of. I support them because of the work they do with helping animals in horrific circumstances and helping to get cruel situations stopped and shut down. Most people live their day to day lives and don't even know what is going on behind the scenes in many industries such as factory farming, fabric, cosmetics etc. I don't think anyone supports animal cruelty on purpose and the more educated people are and the more compassion we, as humans, can have for the animal kingdom, the more we can find innovative ways to live alongside them peacefully without exploiting and hurting them. That's the place I would love for us to get to as a human race. <3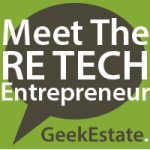 Thanks to Erica for sharing her story. If you'd like to connect, find her on LinkedIn here.
We're constantly looking for great real estate tech entrepreneurs to feature. If that's you, please read this post — then drop me a line (drew @ geekestatelabs dot com). And if you'd like to apply to the mastermind, we'd love to hear from you.
Posted in