In our latest real estate tech entrepreneur interview, we're speaking with Gary Beasley from Roofstock. Gary has experience few in the industry can compete with, going back to 2001 with Zip Realty. I had the chance to hop on the phone with him a couple weeks ago, and speak about their business and product. I'm always a fan of models that enable consumers to do new things — he mentioned 70% of homes are owned by someone within an hour of the house (I had never heard that statistic before) — and Roofstock's marketplace opens up a new inventory of leased homes they otherwise would have no access to (often in geographic markets more affordable than where they live). Letting more consumers participate in the real estate investments is a good thing from my perspective.
Without further ado…
What do you do?
I'm the CEO and co-founder of Roofstock, a growing online marketplace that empowers investors and consumers to buy leased single-family homes. We work with sellers to create a curated and proprietary marketplace of cash-flowing properties in real estate markets around the U.S. Our technology makes it possible for people to purchase investment homes outside of their local area without the hassles of researching and buying vacant homes that need to be repaired and leased. This creates significant time and cost savings for all parties. As CEO, I manage the strategic direction of Roofstock, make major corporate decisions and manage operations as well as team resources.
What problem does your product/service solve?
The Single-Family Rental sector has been stuck in the old, antiquated way of doing things for far too long – it's an industry ripe for disruption. Now, Roofstock is leading the way, transforming the rental real estate market. We designed Roofstock to dramatically improve liquidity and lower transaction costs in the $2 trillion single-family rental (SFR) market. Roofstock provides extensive research, advanced analytics and strategic insights to evaluate certified properties at prices that reflect both market and property conditions. Then, these properties can be purchased online with professional, local management in place.
What are you most excited about right now?
Now, we have hundreds of properties available on our marketplace in 13 markets across the country including Atlanta, Dallas, Tampa, Indianapolis, Jacksonville, Las Vegas, Miami, North Carolina, Orlando, Riverside/San Bernardino, San Francisco/East Bay, Southwest Florida and Memphis.
We recently announced the expansion of Roofstock's services to Indianapolis and Memphis. Soon, we will announce our expansion into the Los Angeles real estate market.
The addition of these three new markets opens up new opportunities for buyers and sellers of cash-flowing properties to connect — it's an exciting time for real estate investors. The platform introduces investors to the unique benefits of the Indianapolis, Memphis, and Los Angeles markets and offers insight and resources to buyers that might not ordinarily consider investing in those areas.
What's next for you?
We are currently working on a new opportunity for agents and brokers that will empower them to benefit from the Roofstock platform as well. Our Broker, Manager, and Advisor Community is a referral program that allows licensed real estate agents to send invites to potential buyers of Roofstock properties and track client activity.
Users can also access our curated marketplace to analyze and research properties for their clients. The best part is that agents can earn 25 percent of Roofstock's selling fee for their referrals upon close. It's a significant opportunity for agents to continue long-term relationships and doesn't require a "heavy lift" on the agent's behalf.
In addition, we're working on a mobile app coming out later in 2017.
What's a cause you're passionate about and why?
I am passionate about education, since that is what provided the opportunities for me to build the life that I have.  For many years I sat on the Bay Area board of BUILD, which is a non-profit that focuses on getting underprivileged kids through high school and into college by writing a business plan and experiencing entrepreneurship.  I first got involved judging the final business plan competition, and was immediately hooked.  In my opinion as a nation we chronically underinvest in our educational system and as a consequence end up treating the symptoms of poverty rather than one of its most addressable root causes.
Thanks to Gary for sharing his story. If you'd like to connect, you may find him on Linkedin.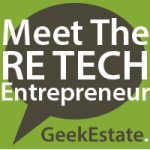 We're constantly looking for great real estate tech entrepreneurs to feature. If that's you, please read this post — then drop me a line (drew @ geekestatelabs dot com).
Posted in