In our latest real estate tech entrepreneur interview, we're speaking with Andrew Flint from Occupier. He is a recent addition to the GEM.
Who are you and what do you do?
My name is Andrew Flint and I am a Co-founder of Occupier along with Erik Pearson and Matt Giffune. Occupier is a Real Estate Success platform that enables businesses and tenant-rep brokers to make better real estate decisions. Our software engages internal and external stakeholders around lease administration, transaction management, and lease accounting to execute the workflows most important to aligning real estate with the operational needs of the business.  We launched Occupier after working together at VTS, now the leading leasing asset and management platform for landlords. Prior to that, Matt and I spent approximately 10 years as commercial real estate brokers at JLL in NYC and Boston. It was through these previous experiences that we recognized how far behind tenants, landlords and brokers were in terms of using technology to manage their business. Proptech has exploded over the past 5-7 years, however the primary focus has been on landlords, leaving an enormous opportunity to create technology focused on the tenant and their teams.
What problem does your product/service solve?
First and foremost, we provide a modern lease administration platform focused on making key lease details like critical dates, financials, and documents readily accessible and actionable to all relevant stakeholders, both internal and external. Second, as new FASB ASC-842 accounting guidelines go into effect with private companies, businesses need to comply with how they disclose their real estate holdings on their balance sheet.  Without centralized lease data and the ability to measure it, companies put themselves at risk of non-compliance, hence our Q3 launch of a seamlessly integrated lease accounting module.  Finally, Occupier drives a more efficient transaction process by engaging the tenant-rep broker into a dynamic workflow that centralizes all deal communication, site selection, and negotiation in one place, increasing the pace and accuracy of lease transactions.
What are you most excited about right now?
During the coronavirus lockdown, it's been unbelievable to see the team come together and thrive.  We have been heads-down on product development and onboarding new customers, moving closer launch of Occupier Lease Accounting in Q3.  There is a ton of pent up demand to leverage that module alongside lease administration and transaction management.  In May, we kicked off our participation in Reach 2020, a proptech focused accelerator we are extremely excited about given its association with NAR, CCIM, and SIOR.
What's next for you?
While we are fully focused on the business right now, we are also poised to raise a proper venture round within the next 9-12, enabling us to bring on additional product, sales and marketing, and customer success resources.  With additional firepower and a solid foundation, what we will be able to provide tenants and brokers will drive significant efficiencies in how companies make real estate decisions and how brokers grow their business.
What's a cause you're passionate about and why?
It is no secret that our country has a serious problem with racial injustice, with the killing of George Floyd shining a light on these problems. As a team we support causes, like the Black Lives Matter movement, that will force long overdue changes in America.  We believe we can make a direct impact by committing  to building a diverse team as we grow.  Personally, I am passionate about supporting community organizations like Grand Street Settlement in the Lower East Side of NYC, that provide programs and services to families, youths and seniors across the city.  Before having kids, I volunteered for 7 years, and most recently made a donation after hearing funding for summer youth programs had been cut. These are times where we need to figure out ways to double down on programs like theirs which build up our communities.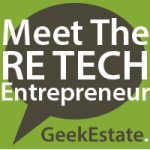 Thanks to Andrew for sharing his story. If you'd like to connect, find him on LinkedIn here.
We're constantly looking for great real estate tech entrepreneurs to feature. If that's you, please read this post — then drop me a line (drew @ geekestatelabs dot com).
Posted in