In our latest real estate tech entrepreneur interview, we're speaking with John Kang from Reasi. They are a member of MetaProp's latest accelerator cohort, and he recently joined the Geek Estate Mastermind.
Without further ado…
What do you do?
I'm Cofounder and CEO of Reasi, an online real estate escrow startup that delivers a secure and seamless closing experience.  Through Reasi, I work so everyone can maximize their financial returns in and through real estate.  Beyond the startup, I am in the business of helping people maximize their happiness, and I believe a solid financial foundation to be critical.  Getting more people into homes through a responsible, cost-efficient process is the way I can contribute to individuals' financial health.
What problem does your product/service solve?
Home escrow today generally sucks.  The communication is awful and the process is clunky and insecure.  I don't know anyone that said "That was a treat!  Let's do that again!".  Worse, it's expensive.  For an average $200k purchase, you'll be charged close to 1% for service that is prone to error and fraud, and it is so bad today, that we have record levels of wire scams and customer stress.
Reasi eliminates the escrow frustration by providing an integrated offer-to-close service, for half the cost today.  Our escrow is simple, secure, and cost-efficient.  Realtors can craft digital offers, have their buyers make down payment deposits directly on the site, and provide an automated closing experience.  Reasi automates so much of the administrative work, that we can lower our fees by 50% and still be a sustainable business.
What are you most excited about right now?
Being a part of real estate's revolution.  The industry's e-commerce moment is happening right now, and the  productivity impact ispotentially enormous.  Equally exciting is working on Reasi with highly motivated teammates.  Battling through the ups and downs together, I feel that I already have gained trusted lifelong friends.
What's next for you?
We're just a few weeks away from Reasi's public launch – this is a very exciting time for us. We've all been working very hard to ensure the stars align for our release.  The goal is to get a few of these transactions done over the next couple months, and learn as much as possible.
What's a cause you're passionate about and why?
Our shared environment connects us all, and I must do my part to take care of our planet.  This often feels daunting especially while growing a startup, but my focus begins on what I CAN do every day.  I try to eat a plant-based diet to reduce my food footprint.  I limit my plastic usage of cups, utensils, and grocery bags.  I bike to work daily instead of driving.  The urgency has only heightened, now that I have a young daughter and a son on the way.  I need to be a good example, and more importantly, I need to leave this Earth in a condition where my kids can have a future.  When I am in a position to devote more time and resources, I plan on reforming legislation to maximize responsibility, accountability, and sustainability.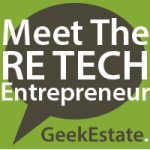 Thanks to John for sharing his story. If you'd like to connect, find him on LinkedIn here.
We're constantly looking for great real estate tech entrepreneurs to feature. If that's you, please read this post — then drop me a line (drew @ geekestatelabs dot com).
Posted in