In our latest real estate tech entrepreneur interview, we're speaking with Sonny Tai, the CEO of Aegis AI, a MetaProp company in the latest cohort.
Without further ado…
What do you do?
I grew up in South Africa, where gun homicide rates are 4x higher than they are in the City of Chicago. As a result, part of my formative years was spent living under the constant shadow of gun violence, as we had family friends who have been robbed, carjacked, and even one who tragically lost his life during a home intrusion, so gun violence has always been an issue I wanted to do something about.
Last year, after yet another mass shooting, I wondered to myself – how is it that the most innovative country in the world hasn't been able to solve the issue of gun violence?
I started doing research into how we can use technology to save lives during active shooter events, and after some extensive research, I, along with my co-founder Ben Ziomek launched Aegis AI. Aegis AI is a software solution that automatically identifies firearms in real-time security camera feeds, then notifies law enforcement and provides early warning to building occupants.
What problem does your product/service solve?
The average mass shooting lasts 12.5 minutes, yet it takes law enforcement on average 18 minutes to respond. 60% of mass shootings end before law enforcement arrives, according to the FBI. We dramatically reduce response times by providing law enforcement with real time, continuous intelligence immediately after a firearm is drawn.
What are you most excited about right now?
We are starting to pick up a lot of customer traction and investor attention. We just had a letter of intent signed by one of the most prestigious schools in the Chicago area, with their Director of Facilities asking: "Why doesn't every school in America have this?", and the Director of Safety and Security at a large school district near Seattle encompassing 24 schools and over 20,000 students has expressed a strong desire that he "definitely intends to use" Aegis AI.
What's next for you?
Signing customers to letters of intent, implementing pilots, and closing our pre-seed funding round.
What's a cause you're passionate about and why?
I started building Aegis AI because of my lifelong passion about the issue of gun violence stemming from my upbringing in South Africa. Also related to that upbringing is my passion for poverty reduction, especially in impoverished, developing countries. In 2013 and 2015, I traveled to Kibera, Kenya (the largest slum in East Africa) to meet with local women and youth groups crafting handmade jewelry and launched an e-commerce jewelry store that remitted all proceeds back to artisans in the Kibera Slums.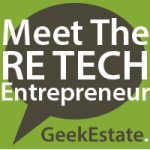 Thanks to Sonny for sharing his story. If you'd like to connect, find him on LinkedIn here.
We're constantly looking for great real estate tech entrepreneurs to feature. If that's you, please read this post — then drop me a line (drew @ geekestatelabs dot com).
Posted in